TECHNOLOGY: LOCAL FIRM SEES COMMERCIAL USES FOR UAVS.
Drone Software's Future Sky High?
Monday, June 17, 2013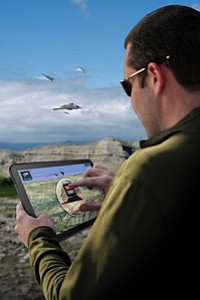 As the era of war winds down for America, Nelson Paez dreams of bringing home one of its biggest spoils: drones.
The same technology that has been used to send spy vehicles over enemy territory or direct a driverless Hummer in a convoy might one day have more prosaic uses, such as employing an unmanned plane to drop water on a wildfire or spray crops.
At the foundation of this Asimovian world is Ballista, a software platform developed by Paez's Santa Monica company, DreamHammer Inc. It's scheduled for commercial release later this summer, though beta versions have already been purchased by government agencies and defense contractors.
Ballista is intended to be an open, Android-style operating system that drives a drone economy. Although widespread clearance for unmanned aerial vehicles is still a few years away, Paez is releasing the platform early to encourage developers to start making applications for it. And when drones are given the all clear, the infrastructure will be set and the military technology ready for the home front.
"There's so much that can be improved with remote vehicles – like in the world of logistics, why are ocean liners manned?" Paez said. "We make unmanned ships in the military, so why not do that with cargo?"
To boosters of this new technology, the economic projections are rosy; a trade group estimates the nascent industry will create an $82 billion economic impact in its first decade of use. In a report prepared by the Association for Unmanned Vehicle Systems International, California was projected to be the largest benefactor of this expansion, with more than 18,000 new jobs and $14 billion projected to be added to the state's economy.
But all of that is contingent on a loosening of restrictions by federal regulators, as well as a shift in sentiment among a public that is wary of a technology laden with privacy and safety concerns. The earliest possible across-the-board clearance of UAVs by the Federal Aviation Administration wouldn't take place until 2015.
And even getting an FAA green light won't mean the technology has public acceptance.
"I don't think we'll reach a point where people will have no concerns, but they'll gain an appreciation which is currently lacking in the public dialogue," said John Villasenor, a professor of electrical engineering and public policy at UCLA. "It's like the Internet; we all appreciate the many benefits of access but it doesn't mean there are not concerns about how it can be used."
Prev Next