Turning Page
Shopping network suits up as magazine maker
Monday, June 10, 2013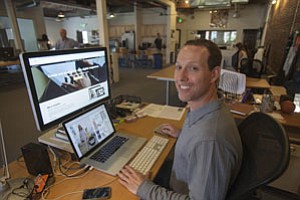 That's when the company began to test new business opportunities and landed on the idea for Glossi. Allowing people to create their own fashion magazines didn't seem like that big of a stretch from ThisNext's fashion sites, Edelman said.

He presented the idea to the board and was given approval to develop a prototype. By February of last year, his 12-person team had developed an early version of Glossi. It looked like a winning play.
"We probably could have sold the company and investors would have gotten their money back," Edelman said. "But investors aren't interested in that. ThisNext had effectively become a zero, but Glossi represented the opportunity to turn their investment into a one."
By October, ThisNext had raised additional capital from its existing investors, officially changed its name to Glossi and rebooted the business.
Signing Brands
Since launching to the public six months ago, Glossi magazines have surpassed 100,000 views per month and 1 million page views per month.
That's still only a fraction of the traffic that competitor Flipboard sees. The Palo Alto company, which offers digital magazine design tools in addition to its popular news aggregation app, reported 20 million users after its first two years on the market.

Glossi said people can use the publishing tool, say, to create a photo journal of their recent vacation to Greece. The company has also started to sign professional magazine publishers and media brands that are creating magazines featuring digital content.
Hearst Corp.-owned women's magazine Cosmopolitan, for example, recently published a 14-page Glossi titled "Sexiest. Summer. Ever." that featured photo spreads of swimsuits and makeup tips with links to full articles on Cosmopolitan.com.
Tim Hanlon, founder and chief executive of Chicago media consulting firm Vertere Group, said Glossi is tapping into a growing trend.
"Brands and advertisers increasingly fancy themselves as storytellers, as content creators and distributors," he said. "In the digital world, the ability to become a taste maker and become a storyteller is easier than ever before."
With the latest update, Glossi now allows people to display their magazines through its iPad app. The company also launched a feature called a "digital magazine stand," which allows them to showcase a collection of Glossies on their Facebook page or blog. Previously they would have had to link to each Glossi individually.
The company now allows people to monetize their magazines by embedding links to e-commerce sites. (A publisher will make a commission if someone goes to that link and then buys a product.)
By adding these features, Glossi is prepping to begin charging a subscription fee. The company plans to keep a basic version of Glossi free but will charge for use of the professional tools such as monetization and distribution.
In the meantime, the company continues to operate ThisNext.com and StyleHive.com as almost an afterthought, using the dwindling revenue from the sites to help retain top engineers and build Glossi's publishing platform.
Anthem partner Woodward said there are no regrets pivoting the company away from its out-of-date websites.
"The actuality is that things don't always go as planned; in fact, they seldom do," he said. "ThisNext was a good business, but we wanted to swing for it."
Prev Next