Turning Page
Shopping network suits up as magazine maker
Monday, June 10, 2013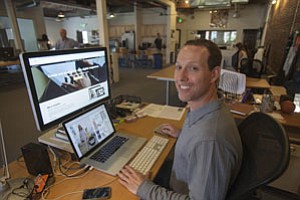 Even so, when Edelman joined ThisNext, shopping sites were beginning to incorporate social media by allowing people to view their friends' favorite looks or share their own purchases on Facebook. ThisNext allowed for some social interaction but it was out of date.
Sucharita Mulpuru, an e-commerce analyst at Cambridge, Mass., research firm Forrester, said ThisNext needed to keep up with social innovation in order to keep pace with competitors. Instead, the company lagged.
"If they'd played their cards right and engaged in social early on, they could have been one of the companies that was in the best position to benefit from it," she said.

The company tried to update social components of ThisNext.com and StyleHive.com – a San Francisco shopping wish-list website that the company acquired two months before Edelman arrived.
At first, it looked like the strategy was working. The Business Journal reported in 2010 that traffic to ThisNext.com grew by 250 percent during Edelman's first seven months. At the time, the site claimed 6.5 million members. ThisNext logged its first profitable quarter at the end of 2011.
But audience growth and profitability belied a larger problem.
The technology platforms keeping ThisNext.com and StyleHive.com humming were designed in the mid-2000s when Facebook was only for students and Twitter didn't exist. So they were not built to handle the social integration.
"The more changes we made to the user experiences in order to connect to the social web, the more something broke," Edelman said. "We found ourselves taking one step forward and two steps back."
Making changes
To make matters worse, Google changed its search algorithms in 2011 to steer traffic away from what the search giant considered low-quality sites. Those that were deemed "content mills" or others that relied on affiliate fees and had limited social integration, such as ThisNext, were shoved to the bottom of the search results.
It was while trying to integrate social components and recover from the Google update in 2011 that Edelman realized there wasn't much he could do to turn ThisNext into a long-term success. ThisNext's revenue was stable and it was a profitable business, but the company wouldn't be able to grow without gutting its technology and starting fresh.
"I didn't believe that the way ThisNext made money and generated traffic was a viable way for a company to grow and expand without a significant war chest of capital," Edelman said. "I just didn't want to build something for ThisNext around a concept that I didn't believe in."