SHOPPING NETWORK SUITS UP AS MAGAZINE MAKER
Turning Page
Monday, June 10, 2013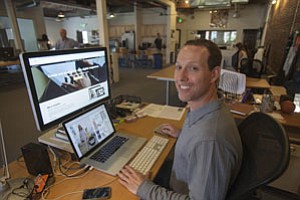 When Matt Edelman took the reins of ThisNext Inc. in 2010, the business was stalled.
The Santa Monica company, which operated a portfolio of fashion and shopping websites, relied on out-of-date technology that limited its potential to grow.
After a year trying to fix ThisNext's business, Edelman realized there wasn't a long-term solution. So he changed direction and decided to turn the company into one focused on new technology.
The result is Glossi, a publishing platform for digital magazines that launched in December.
Glossi allows people to create and publish online magazines. Anyone from fashionistas to real magazine publishers to brand marketers can use Glossi's drag-and-drop tools to add text, photos, videos and links to design digital 'zines.
"Everybody is extremely excited about where this company is headed," Edelman said. "And for all intents and purposes, it was a company that wasn't going anywhere before this."
In the last three years, Edelman and his team built Glossi from the ashes of ThisNext. The reorganized company continues to operate ThisNext websites, which still bring in a steady but waning revenue stream.
Glossi last week announced a series of updated features – including distribution and monetization tools – that set the stage for the company to sell its services to paying customers.
With touch-screen capabilities and horizontal scrolling, the digital magazines created using Glossi are designed to be read on mobile devices, not desktop or laptop computers.
Glossi board member William Woodward said the company's potential has reignited his excitement.
"Mobile computing sort of reinventing multimedia was really compelling to me," said Woodward, who invested in Glossi through Santa Monica's Anthem Venture Partners. "ThisNext had a fair amount of just-missed opportunities. We're asking, Are we going to get it right this time?"
Early challenges
ThisNext launched in 2006 as an updated iteration of the shopping websites that put Los Angeles on the e-commerce map during the first dot-com boom.
Much like West L.A.'s Shopzilla or Ladera Height's PriceGrabber, ThisNext makes money by sending people to e-commerce sites and earning a commission – called an affiliate fee – for driving a sale. These companies depend heavily on traffic from Google to send shoppers to their sites.
Many of those shopping sites act like a search engine, but ThisNext lays out its website more like a fashion magazine. Editors compile a selection of their favorite summer dresses, for example, to inspire shoppers.
By early 2010, ThisNext had raised close to $9 million in funding from investors that included Anthem and Santa Monica's Clearstone Venture Partners.
Prev Next