INTERNET: DOLLAR SHAVE CLUB SEEKS TO MIRROR BATHROOM SUCCESS.
Razor Vendor Takes Swipe at Wipes
Monday, June 10, 2013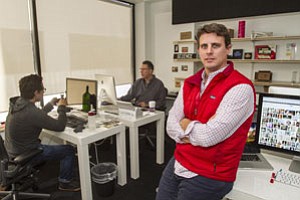 Newly raised money brought with it raised expectations, as the company was confronted with the potential of being a one-hit wonder. What's more, subscription e-commerce has been falling out of favor with tech investors, which puts added pressure on Dollar Shave Club to stay sharp.
"It's very difficult for e-commerce retailers to sustain a strong customer base once the novelty of a particular program or campaign wears off," said Ali Lipson, a senior retail analyst at Chicago research firm Mintel Ltd. "Though the concept of Dollar Shave Club is unique, the products can be found in many retail channels."
Sequel syndrome?
Dollar Shave Club's long-awaited sequel, as is typical of sequels, is dividing fans so far.
The style of the video is the same as the one that launched the business: Dubin walks across sets, brusquely interacting with employees, a child and a costumed bear, all the while touting the virtues of One Wipe Charlies.
Plenty of commenters on the video's YouTube page have extolled the company's "marketing genius."
But with just over a half-million views after the first 24 hours – and slowing considerably – it appears the trajectory won't match its predecessor's. One Market's Fox dubbed the second video "underwhelming."
Dubin, who spoke with the Business Journal prior to the video's June 4 launch, knew One Wipe Charlies might cause people to do a double take.
"It's a bold statement," he said, "but we wanted to plant our flag on the far end of the field."
More important to Dubin, however, is the category Dollar Shave Club is entering. The $9 billion toilet paper market the company is vying for with One Wipe Charlies is its biggest yet. And with a fervent belief that it's proposing a better solution to a messy problem, Dubin thinks the company stands a chance of tearing off a sizable piece of that industry.
It has already touched off some debate online about the usage of wipes as an alternative to toilet paper, but it might not be as obscure as it seems.
Dollar Shave Club executives cited reports by research firms Mintel and Iri Worldwide that say 51 percent of men have used flushable wipes. And yet they might not have the same pricing appeal of razors: A box of 600 wipes costs $18 at Costco.
As the company attempts to go further into outré male grooming products, USC's Kalb said, it could well learn from the nearly 100-year-old strategy pioneered by its largest competitor – Gillette (now a unit of Cincinnati's Proctor & Gamble Co.)
"Nobody was buying Gillette razors until they started giving them away practically for free, and people realized how much they like them," Kalb said. "Dollar Shave Club needs to do something similar if it wants to break men's habits in the bathroom."
This next slate could prove far trickier for the company. While razors are a product people use on a fairly predictable basis – each one lasts about a week for daily shavers – it is difficult to time the consumption of items such as wipes or toothpaste (something Dollar Shave Club execs have mused about as a future offering). Dubin said the company will closely monitor customers' buying habits so it can make informed recommendations of when guys need to reup.
And with more products in the pipeline, Dubin is taking a broad view. So even if the wipes don't stick, something else might.
"We like to think we started with razors the way Amazon started with books," Dubin said.
Prev Next