INTERNET: DOLLAR SHAVE CLUB SEEKS TO MIRROR BATHROOM SUCCESS.
Razor Vendor Takes Swipe at Wipes
Monday, June 10, 2013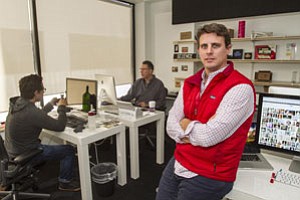 The ad and its campaign retain the tongue-in-cheek tone of its predecessor – the title of the second video is "Let's Talk About #2" – but the need to further the Dollar Shave Club name is serious. To Michael Jones, president of Santa Monica's Science Inc., which was an early investor in Dollar Shave Club, the company's appeal hangs equally on the business model as well as Dubin's star potential.
"He has a brand view that goes way beyond razors," Jones wrote in an email. "His unique personality and ability to build a brand upon his own outlook makes him a strong candidate to be the next Proctor & Gamble."
Bottled lightning
Dubin co-founded Dollar Shave Club as a relative newcomer to the tech startup world. Previously, he worked in digital marketing for big brand advertisers, specializing in driving traffic to video through social media.
He and the father of a friend devised Dollar Shave Club in 2010 and brought the business to Science, a tech incubator that's put itself at the center of L.A.'s e-commerce boom.
The first official day of operation, March 6, 2012, was marked by the launch of the YouTube video.
Thanks largely to social media traffic, the video got big quickly; within a week it had more than 3 million views; now it has more than 10 million. The crush of visitors checking out the service was so intense that for 24 hours after the video hit, Dollar Shave Club's site was down.
It was one of the few viral hits that reached pop culture status – Mitt Romney's campaign even parodied it during the 2012 election. A year later, it's still used as an example of how an inexpensive video (reportedly shot for $4,500) with the right tone can almost market itself.
Jimm Fox, president of Toronto video production and marking company One Market Media, said the promotion was the rare campaign where viral success drove not only view counts, but also product.
"Creating a successful video is as difficult as writing a hit record," Fox said. "Dollar Shave Club's video worked because it was creative enough to spark interest, but the edge was just enough to appeal to a large number of people."
That success soon led to more funding; in November, Dollar Shave Club closed a $9.8 million A round, led by Palo Alto investment firm Venrock. The company moved into its own digs in a converted red-brick firehouse just off Abbot Kinney Boulevard in Venice and has staffed up to 25 people.