Ad It Up
Rubicon Project's Frank Addante aspires to snatch cyberspace crown from Internet leader Google.
Monday, June 3, 2013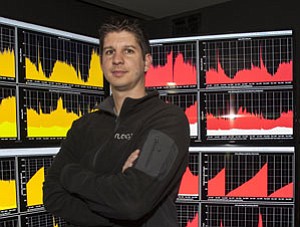 How much did you get acquired for?
It was part of another transaction for a company called WebPromote, which turned into YesMail. The combined company was purchased for $450 million.
Did you have a good equity stake?
I did. It was a decent amount of money but it was all CMGI stock. It turned out to be a big goose egg.
But you had something that was worth a lot for some time?
Yeah, but I never paid attention to it. I should have. I didn't really know what it all meant. I was 21. They'd want to take business meetings and want to meet at a bar and I couldn't go.
What was next?
I was already on to the next thing, called Reactions. It was how to track and target a campaign. Then Reactions ended up merging with another company in L.A. that became L90. We took it public and it was acquired by DoubleClick. So then I started a mobile company.
What did that do?
It was mobile ads. The thought was your mobile phone is the only personally identifiable piece of info that you really have that's digital. We could use the mobile device to do unique things with ads, like if you walked by a Starbucks you could get a coupon and use your phone even to pay.
What was the market response?
There wasn't one (laughs). We just started too early. We had one customer and partner and that was Intel. Then I raised venture capital for it. It took me six months and I wasn't paying attention to what was happening with the business and the market. I called up the investor and said I'm going to give you your money back. The world was imploding and no one was thinking about mobile ads. I was like, "I could either waste your money or give it to you."
And from there?
I started an incubator called Addante LLC, which became Strongmail, a system for email infrastructure. We built a hard-core email infrastructure for companies like Charles Schwab to send secure statements or American Airlines to send flight notifications. I self-funded and we were profitable when it started taking off. Then I ran it as CEO and raised money from Sequoia Capital and moved it up to Silicon Valley. I spent two years there.
How big did the company get?
It's still around. It's now the leading provider of email infrastructure.