Ad It Up
Rubicon Project's Frank Addante aspires to snatch cyberspace crown from Internet leader Google.
Monday, June 3, 2013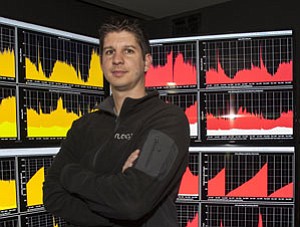 They didn't know. The thought of going to a university was too far-out.
What led to your dropping out?
I started a company. It's cliché, though it
wasn't in my dorm room but my frat room. It was a search engine directory called Starting Point. It was one of the top 10 websites on the Internet back in '97, '98.
How did you begin to develop this thing?
Well, to make money in school for books and food I was doing contract work setting up computer networks for companies. I found that I was starting these servers and connections for people, building websites. But how do you know how to find them? How do you know how to find, say, a travel site? Starting Point was a search engine and directory, we'd organize sites such as the top 100 sports sites and travel sites.
So it was very human-sourced.
It was building like a card catalog for the Internet.
Were you always electronically minded?
I thought I was going to be an electrical engineer, but as part of engineering I had to take computer science classes and I didn't get it at all. When I started Starting Point I went to the bookstore and I bought a book called "Learn PEARL in 21 Days" and I stayed up all night reading this book about coding. The next day I started coding and it all made sense. It was funny – I spent $100,000 on college and this $20 book was the most valuable book.
How did you fund the company?
Initially it was me doing odd jobs to fund it, then I needed a more sustainable way to make money and I thought of advertising. It wasn't a normal thing to advertise online then. I cold-called Ameritech, a local phone company. I said, "There's a ton of traffic here, would you be interested in sponsoring the home page?" They said, "How much is it?" I said, "$5,000." They said, "OK." I thought that was way too easy. So I called the next one, ATT, and they said, "How much?" and I said, "$10,000" and kept doing that until someone said, "How do I know there's really that many users?" That turned out to be the genesis of the next company.
What happened to Starting Point?
It was acquired by CMGI, a huge Internet conglomerate, in 1999. They crashed in the dot-com bust.