Ad It Up
Rubicon Project's Frank Addante aspires to snatch cyberspace crown from Internet leader Google.
Monday, June 3, 2013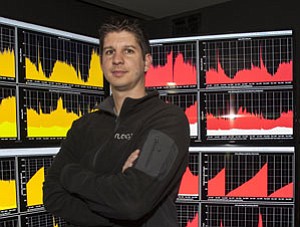 So did you go to college?
Yeah. But I dropped out. I went to Illinois Institute of Technology. It's one of the top two electrical engineering schools. Right up there with MIT.
Were you a good student?
No. I had a hard time studying. My senior year of high school for half the year I didn't go to traditional class. I had an office at the school. I was working with the Illinois State Board of Education on vocational education. Our school had two organizations, DECA (an organization that promotes marketing and entrepreneurship) and Future Business Leaders of America. I was involved in both. I ran for state president and won, and for FBLA I was the second runner-up in the state for Mr. Future Business Leader. I lost because I wore a purple shirt. I got point deductions for wearing a purple shirt.
They just thought that wasn't serious enough for a future business leader?
Had I not worn that purple shirt, I would have won.
Were there other hobbies growing up?
I played a lot of basketball. I played all four years in high school and was on varsity from my sophomore year on. I was a shooting guard and small forward.
Do you still play?
No. I injured my ankle when I was in high school. It was one of those things where a doctor told me to go get therapy and I said, "I'll worry about it when I'm older." Well, now I'm older. It's been unstable, but I've been putting off surgery.
How did your parents feel about you going to college?
Neither of them went to college. My mom was a stay-at-home mom and my dad has had a series of jobs. He worked for Brach's Candy for a while until Brach's started letting people go. He's had a series of manufacturing jobs since. He drives a forklift now.
Do they get what you do?
No. They're very, very simple people. My mom doesn't drive on the highway; they've been on a plane maybe five times in their entire lives.
So it was a big deal for you to get to college. They didn't have a fund or anything?
I got a number of scholarships, student aid, loans; I worked three jobs when I was in college. It was $35,000 a year; probably not the smartest choice for me.
How did your parents feel about you dropping out in your junior year?