Inexpensive Console Makes Play for TVs
VIDEO GAMES: Shortage of titles could stymie Ouya's rollout.
Monday, July 29, 2013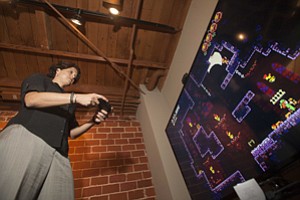 For Uhrman, the most encouraging part of the frenzy was that most donations were in the form of Ouya presales. The device was yet to be built, but it already had a market.
"I was shocked and overwhelmed. We were one of the highest asks in Kickstarter; no one asks that much money," Uhrman said. "Our backers wanted choice and creativity and didn't want to spend $60 to try out a game. That's what we promised."
Earlier this year, Ouya augmented its crowdfunding with a private $15 million venture capital round led by Menlo Park's Mayfield Fund that included Kleiner Perkins Caufield & Byers, among others.
The company, which now has 30 employees, most working from an office above the Third Street Promenade, has tried to maintain its console-of-the-masses mindset. When backers in Europe suggested the Ouya have an Ethernet port because Wi-Fi on the continent can be unreliable, the designers quickly added one.
Ed del Castillo, founder and chief executive of Pasadena game studio Liquid Entertainment LLC, said that kind of attention to customers' needs is becoming increasingly rare in the gaming world. Case in point: Microsoft Inc.'s upcoming console, Xbox One, which earned a torrent of criticism recently when it appeared the device would make it difficult to let people share games (Microsoft has since backed off this stance, slightly).
"The big console makers have a limited, rigid way of doing business; they only allow a certain number of publishers to fill open slots," del Castillo said. "What we're seeing is more and more of devices like Ouya that say consoles belong to the masses."
Enough games?
If the masses really are clamoring for the console-publik, that has yet to be proved by sales. In a June report of gaming sales prepared by market analysis firm NPD Group, Ouya's take was put at a "light" 19,000 units from retail. The report cited, among other factors, a lack of marquee titles as reasons for underwhelming figure.
Uhrman downplayed NPD's take on Ouya, and argued that its numbers don't reflect the number of units sold directly from its website. The company would not release its sales figures.
As for game sales on the unit, those appear to be mixed as well. "TowerFall" reported 2,000 downloads at $15 each. That makes it one of the console's bigger hits so far, though given Ouya's 30 percent cut on sales, the developer's take has only been $21,000. Other games reported fewer downloads, but decent takes from in-game purchases. Ouya executives said 27 percent of gamers pay for content.