VIDEO GAMES: SHORTAGE OF TITLES COULD STYMIE OUYA'S ROLLOUT.
Inexpensive Console Makes Play for TVs
Monday, July 29, 2013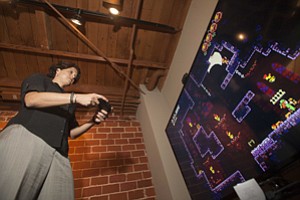 Julie Uhrman's new gaming console, Ouya, is small. Enough to easily fit in the palm of your hand.
But don't call the $99 device made by Santa Monica's Ouya Inc. a mobile gaming unit. And certainly don't conflate its small size with being a small deal.
The console's public launch last month came on the heels of a record fundraising campaign last year that solicited donations from the public, a process known as crowdfunding. It took in $8.6 million through crowdfunding platform Kickstarter, which was then the site's biggest-ever raise.
Ouya's philosophy is a response to a gaming market that has edged out casual players and simple game play in favor of complicated blockbuster franchises.
But away from its adoring backers, the console is struggling through a rocky launch and the harsh reality that the inexpensive console market might be a dying breed.
Uhrman's inspiration for the console was an attempt to fuse the simplicity of mobile gaming with the immersion of the TV. She envisioned Ouya to be many things, but most of all, she wanted it to be open.
"Gaming is the last digital platform that's closed. It's difficult for new developers to bring games to TV," Uhrman said. "It's about being open and allowing game developers to build how they want."
Ouya runs on Google Inc.'s open-source Android operating system and games for the console are required to have some free-to-play element; the only place to download Ouya titles is an online digital marketplace.
The ethos behind the console is to be hacker friendly, where a hobbyist can tweak the console and its operating system to allow for modifications. For example, both Xbox 360 and PlayStation 3 controllers and even an iPhone can be made compatible with Ouya.
Those kinds of hacks, said Uhrman, are an anathema to a gaming industry that's become cloistered and derivative.
Beyond the gauzy optimism that has brought Ouya from Kickstarter project to the shelves of Best Buy Co. and Target Inc. stores, the real challenges are starting to set in.
Early reviews for the device range from lukewarm to outright dismissive. Some have griped that Ouya's off-the-shelf internal components make for a sluggish experience. The included controllers are routinely deemed unusable (many use other console's controllers).
Then there's the matter of games – a console is, of course, only as good as the titles it offers and right now critics have concerns about the lack of breakout hits.
Prev Next