Amazon Deal Big Production
Real Estate: Online giant to open studio on Westside.
Monday, July 29, 2013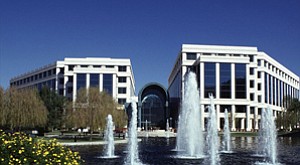 Creative space
Amazon and Amazon Studios have been operating out of small Sherman Oaks offices at the Sherman Oaks Galleria and 7404 Fulton Ave. Those offices would likely be consolidated into the Westside space.
The Water Garden lease is the latest move by Amazon to dig into Los Angeles. Last month, the company made Los Angeles the second location, after its home base of Seattle, for its Amazon Fresh grocery delivery service. That unit has been leasing industrial space in Los Angeles and in the Inland Empire for storage and garaging its green delivery trucks.
The Water Garden complex, an eight-building, Class A office campus, isn't considered the typical creative space coveted by tech and entertainment firms. Such space is usually found in a former industrial building that has been brought up to date with polished concrete floors, exposed ceilings and wide windows.
The Water Garden instead offers a more traditional but upscale environment. Its design and amenities include vast lobby atriums with granite and marble flooring as well as restaurants and cafes, a fitness center, hair salon and a dry cleaner. The 17-acre campus has a large landscaped courtyard with a small manmade lake and fountains.
Amazon executives did look at creative space around the Westside but decided to go the more corporate, high-quality office route, brokers said.
Jeff Pion, vice chairman in CBRE Group Inc.'s Miracle Mile office, was not involved in the deal but has represented tech tenants such as Google. He said the decision makes sense for a company like Amazon, which might be looking for the kind of flexibility available in more traditional and institutionally owned office space. Santa Monica's tight office market, with a second quarter vacancy rate of just 11.5 percent, offers few spaces large enough for the company.
"The market is changing," Pion said. "The pendulum has swung from a tenant's market. It is heating up and we are seeing a lot of activity. We are not seeing a lot of big spaces on the market and it's limiting these companies on where they can locate."
What's more, a large complex like the Water Garden provides Amazon the ability to grow and contract as it needs, according to Industry Partners' Jennison.
"The challenge of a stand-alone true creative space is sometimes you can't grow," he said. "The Water Garden has vacancy and has parking. So they can sign for 75,000 square feet and if they need to take 40,000 right away and grow into the remaining 35,000 over time, they can. That's where the Water Garden has the advantage."