Dolls Tuned Up For Multimedia
TOYS: Creator hopes Beatrix band is music to little girls' ears.
Monday, July 15, 2013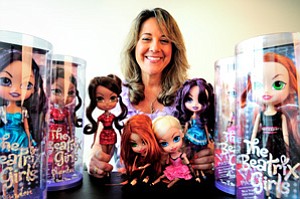 The pair left Virgin Digital, the online music sales business of Richard Branson's Virgin Group, where Zalon was president and Cassidy was chief technical officer, when that operation was shuttered in 2006.They formed Wilshire Axon, a digital product design firm, before turning their attention to Elevator Labs in August 2011. They formed the new company, which they described as an "innovation factory," with $20 million in backing from Chicago private equity firm KGC Capital.
Yet even with an experienced management team, a cross-platform development plan and a reasonably deep-pocketed backer, breaking into the $2.6 billion U.S. doll market is no easy feat.
Richard Gottlieb, chief executive of toy industry consultancy Global Toy Experts in New York, said the fashion doll category, dominated by Barbie, could prove particularly difficult.
"They've got a real challenge ahead of them," he said. "I'm not saying lightning can't strike, but the people they're competing with have a lot of money in promotion and brand equity."
Sean Windle, an analyst at Santa Monica market research firm IBISWorld, said the industry is ruled by a few big companies with significant market share. Mattel Inc. in El Segundo and Hasbro Inc. in Pawtucket, R.I., for example, account for about 16 percent and 9 percent of the doll industry's annual revenue, respectively.
"These companies have an advantage because they're large and able to source materials cheaper," he said. "That puts smaller regional manufacturers at a disadvantage competing with them."
Gunther said that she expects to manufacture between 75,000 and 100,000 dolls in Shenzhen, China, to fill initial orders, and that online retailers have already begun placing preorders for the dolls, which will retail for $24.99 each.
Barbie and Bratz dolls both retail for from $12 to $27, and each brand has branched into other media as well.
Gunther would not say how much the company was seeking in its current funding round, only that money raised would be used to pay for a marketing campaign that would allow the company to compete with doll industry heavyweights such as Mattel and MGA.
That could be what makes or breaks a newcomer, said Global Toy Experts' Gottlieb.
"To be successful with a doll in the toy market, you are going to need to have a lot of capital behind a TV advertising campaign or online advertising," he said.
Popstar has begun putting together ads. Earlier this month, the company spent two days shooting footage of the dolls, which they plan to cut into commercials of various length. The ads will complement a series of online videos the company has already created and uploaded to YouTube.
Popstar, which recently hired a head of sales, now employs four people, including Gunther. It has a distribution deal in place with Tween Brands Inc.'s Justice stores, a New Albany, Ohio, clothing and accessories chain aimed at girls age six to 12. There it will sell special holiday packages of the dolls complete with miniature instruments.
In a move toward further growth, the doll company said it has already signed a couple of licensing agreements with manufacturers eager to sell Beatrix Girls-branded shoes and bedding.
Gunther said she's also got deals in the works to license the brand for categories such as clothing, jewelry and back-to-school accessories.
It's unusual for a new company to get interest from licensees so early on in the process, but she thinks it speaks to the strength of the Beatrix Girls brand.
"It's early, but very exciting," she said.
Prev Next