TOYS: CREATOR HOPES BEATRIX BAND IS MUSIC TO LITTLE GIRLS' EARS.
Dolls Tuned Up For Multimedia
Monday, July 15, 2013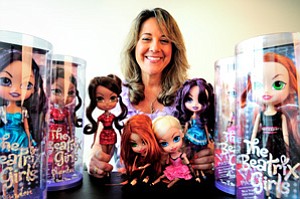 Barbie has ruled the fashion doll scene for a half-century. Now, some new girls want to play.
Westwood startup Popstar Club LLC is preparing to launch Beatrix Girls, a doll band made up of musicians Brayden, Ainsley, Lark and Chantal. The 12-inch dolls are set to debut in Toys R Us and other specialty toy stores nationwide this fall. The line's design complete, Popstar is close to securing a second funding round to support the rollout.
Like Barbie, whose creator Ruth Handler was inspired by her daughter at play, the Beatrix Girls are the product of a father's observations – but with a decidedly 21st century twist.
"Through the eyes of my children, it was pretty easy to see what kids are looking for and need," said Zack Zalon, managing partner at incubator Elevator Labs.
What he saw watching his two young daughters at play was that kids today are not content to have their toys live only as dolls. The Beatrix Girls are intended to cross platforms – making music, starring in online videos and eventually living out their adventures on television.
To realize that complex commercial life, Zalon brought in Sherry Gunther, a 20-year veteran of the TV animation business, as chief executive of Popstar. He charged her with developing the brand.
Gunther, who served as a producer on popular animated TV series "Family Guy," "Rugrats" and "The Simpsons," was also the head of Hanna-Barbera Productions when it launched Cartoon Network in 1992.
The first step, she said, in creating a brand for an already crowded market was to differentiate its design. Popstar used animators to craft the characters' look, rather than traditional doll designers who might have preconceived notions of what a doll should look like. But Beatrix Girls' oversized heads have nevertheless been said to resemble Van Nuys toy company MGA Entertainment Inc.'s Bratz dolls.
Isaac Larian, MGA's chief executive, declined to address the potential competition.
Gunther said the Popstar dolls are distinctly different.
"We didn't try to copy anyone else," she said. "In fact, our entire M.O. was to be completely original and different by nature."
With the dolls' look developed, Gunther hired a songwriter who wrote eight original songs for the band. The tunes, available on the dolls' website, TheBeatrixGirls.com, will be joined by other original tunes as the toy pop stars gain popularity.
One-hit wonder?
While a line of dolls might seem far afield for an incubator whose other investments are Hello Music, a social commerce platform for musicians, and FatCloud, a cloud application management system, Zalon and his partner in Elevator Labs, Brendon Cassidy, have backgrounds in music and design.
Prev Next