TELECOM: VITESSE'S NEW LEADERSHIP AND PRODUCTS POWER UP SHARE VALUE.
Chip Maker's Turnaround Flips Switch on Wall Street
Monday, July 15, 2013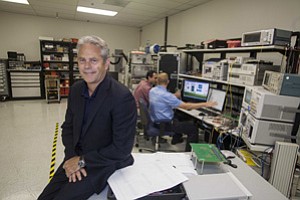 Bad timing and worse decisions brought Vitesse Semiconductor Corp. to the brink of bankruptcy. Now, with a new management team in place, a new product line to market and cash in its coffers, it is charting a new course.
Seven years ago, the Camarillo manufacturer's telecom components were quickly becoming outmoded as the industry moved from one technology standard to another. The strategy of turning the ship around required the company to take on $700 million in debt at a time its sales were falling.
Meanwhile, the Securities and Exchange Commission was investigating top executives over stock option backdating and inflating revenue. Vitesse was temporarily delisted by Nasdaq (it returned to the index in 2011). It settled a shareholder class-action suit for $10 million and the SEC case for $3 million.
Today, years after Vitesse hit rock bottom, the maker of telecom chips is selling a story of turnaround. There's a different executive team at the helm and the company's bets on the future of telecommunications are starting to pay off.
Vitesse raised $40 million in a late-June stock offering that gave it badly needed cash, helping to pay down debt and starting to convince investors it was once again on the right track. Shares of Vitesse, up 26 percent on the year, closed at $2.81 on July 10, down 1.1 percent for the week. (See page 27.)
Chris Gardner, installed as chief executive at Vitesse after the old management was removed by the board in 2006, said the turnaround was only possible once the company was able to start paying down its bond obligations.
"The debt kept investors from getting into the stock," Gardner said. "Once we raised enough capital, that's what allowed investors to believe that this was time to look again at the company."
Analysts bullish about Vitesse also point to the company's optimistic revenue projections. Revenue for its new products doubled from $7.8 million in 2011 to $15 million last year. That trend is projected to continue, with that revenue expected to reach $30 million this year and $60 million in 2014.
It's a rosy view, but one that is backed up by a market that is finally looking for the kinds of components for broadband networks made by Vitesse.
"What they've been doing is managing the transition from the legacy technologies to the new products, and that's been tough to do," said Quinn Bolton, an analyst with New York investment bank Needham & Co. "But their revenue is ramping up nicely."
Prev Next