True Grit
Tech firms connect with downtown Arts District
Originally published July 1, 2013 at midnight, updated July 18, 2013 at 4:57 p.m.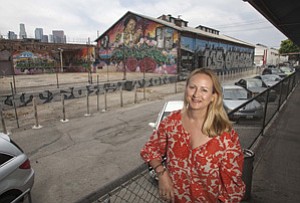 Today, the company sells its video conferencing and collaboration tools – which evolved from g-speak – to clients such as General Electric and IBM. It's grown from a small office along Third Street to 12,000 square feet of production, office and showroom space.
De Lares Norris estimates that one-third of her staff either bikes to work or uses public transportation for their commute. Many of the firm's younger employees also live in the district.
But as other companies have followed, the Arts District is already starting to see many of the same problems that the city's more populated tech hubs experience.
Many businesses complain about the lack of parking for employees, especially as restaurants open up and draw car-driving customers from outside the area.
Studley's Lustgarten said the converted warehouses were never meant to house more than a handful of workers at any one time. Parking becomes a problem when tech companies take over those spaces and fill them with desks.
"Buildings that were meant to be sparsely occupied are now being densely occupied," he said. "Parking is becoming a big problem. There are new developments a few years down the line where landlords are going to have to build parking lots with these buildings."
Then there's the issue of space. Already, Lustgarten said, it's becoming harder for companies to find large empty warehouses that have been converted to creative office space.
At Hive, Miller said he'd like the company to stay in the Arts District when it grows too big for the incubator. But he recognizes that it might be hard to find an office.
"We've started to identify as a downtown company," he said. "I really do think it will be a place where it'll be a question of how to get into the Arts District. Hopefully, we'll be one of the stories of someone who got in early."
'Special neighborhood'
The evolution of the Arts District from gritty industrial streets to artistic community can also be attributed to the area's former business improvement district.
Founded in 2006, the BID assessed fees from property owners to pay for security patrols, garbage cans and cleaning services. But in May, a Los Angeles County Superior Court judge ruled that the BID's renewal process was constitutionally flawed and ordered it to dissolve by the end of July.
Several businesses said they've already noticed an increase in dog poop on the street and have begun to feel less safe at night without the BID's bicycle patrols.
Property owners could reform the BID under new rules. But the dissolution of the group is threatening to undo the progress that the Arts District has made in recent years.
Sheryl Flynn, chief executive at Blue Marble, said she would contemplate moving out of the neighborhood if security patrols don't resume.
"That is reason enough for me to consider leaving," she said. "We're so close to Skid Row. Not that those guys are going to do anything, but I've really felt safe knowing that in a couple of minutes there will be a guy on a bike."
On the other hand, some residents and business owners have said that the district needs to get back the edgier feel that first attracted them to the area.
Elizabeth Stewart, founder and chief executive of workspace Hub LA, said she worries that further Arts District gentrification could cause the neighborhood to lose some of its charm.
"It's changing very rapidly," said Stewart. "It's such a special neighborhood right now. We don't want it to be replaced. It will lose all the things that people are attracted to."
Prev Next