GOOD Worldwide Hosts Hiring Contest
Tuesday, January 29, 2013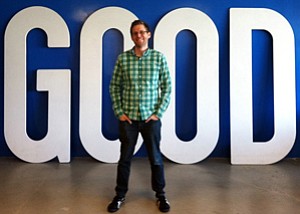 Searching for new employees can be tedious and time consuming.
So Hollywood media company GOOD Worldwide LLC decided to spice up the process by hosting an unusual competition to hire a new engineer.
After the five-week Coding for GOOD contest, GOOD named its winner Monday afternoon. Brian Bonus, a Los Angeles television editor, has been offered a full time engineering position with the company.
To win the job, Bonus and other contest entrants completed a number of technical lessons that taught them various coding and programming skills. They submitted a final project using their coding skills. Bonus' project was a memory game that used Instagram pictures.
GOOD selected its top three candidates based on the final projects and then flew them to Los Angeles for a hack-a-thon hosted by Google Inc. and YouTube.
During the 48-hour hack-a-thon, Bonus and his team created a platform for teachers to send video lessons to students and receive real-time responses.
Doug Sellers, the chief technical officer of GOOD, said the company was impressed with Bonus' ability to quickly learn skills during the hack-a-thon.
"He was able to know what to try next and what to learn next," Sellers said. "What made Brian stand out was how quickly he picked up technologies and how much natural talent we felt that he had."
"It's an interesting way to go about getting a job," Bonus said. "But at the end of the day, it gave me an extended period to get to know the people I'll be working closely with. I'm really excited."
GOOD was founded in 2006 by the Ben Goldhirsh, the son of Inc. Magazine creator Bernie Goldhirsh. It operates a social network geared toward altruism and also publishes a quarterly magazine.
Sellers said the idea for Coding for GOOD started more than two years ago when the company had a hard time finding qualified engineers despite record unemployment. The company realized that it could teach college students certain technical skills, so it began offering a summer training program.
GOOD has since expanded its program through education company Apollo Group to include anyone interested in learning software engineering skills.
The Coding for GOOD contest was a way to spread the word about GOOD's training programs, Sellers said. But the company found that the contest was actually a better way to determine whether a potential employee is the right fit for the company.
"At the end of the weekend, you have a very good sense of who's going to work well, what they're capable of and how they'll integrate into your team," Sellers said. "I wish we could do that with everybody."