Buzzmedia Bolsters Video Content With 'The Daily Buzz'
Tuesday, January 22, 2013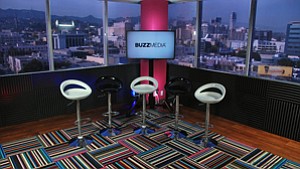 Hollywood has been buzzing about web video as companies move into town to produce shows specifically for YouTube. Now Buzzmedia, a Hollywood blog network focused on celebrity and music news, is swarming into the space as well.
The company built a studio last year at its Sunset Boulevard headquarters that has views of the Hollywood sign, the Capitol Records Building and downtown.
Using the new studio space, Buzzmedia announced Tuesday that it is rolling out its first daily web show, which will air on Celebuzz, the company's flagship celebrity and entertainment news blog. Called "The Daily Buzz," the show will feature entertainment news segments and interviews with celebrities.
"'The Daily Buzz' is designed to provide a level of analysis on showbiz stories," said Dylan Howard, Celebuzz's editor-in-chief. "Our strategy is to provide a level of context around a specific story."
The new show is all a part of Buzzmedia's effort to expand its web video content.
Jim Downs, vice president of video production, said the company had very little video infrastructure when he was hired a year ago. He's helped build up content by constructing the studio for talk-show style webcasts and broadcasting live from events.
Celebuzz is now posting about 15 videos a day. To promote its videos, Buzzmedia has also developed a number of YouTube partner channels for its various blog properties.

But the YouTube ecosystem is becoming increasingly more competitive as companies are established specifically to create videos for the platform. Not to mention, Buzzmedia already faces stiff competition in the worlds of entertainment and music news.

Downs said Buzzmedia views web video as one component of its network. The company hopes to hold onto its audience by supplementing its videos with additional content.
"YouTube channels have just videos," he said. "They're not surrounded by other content. We have all this really great editorial around the video being produced."