Cooley Adds Two Partners in Santa Monica
Tuesday, February 19, 2013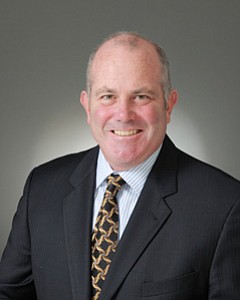 The L.A. technology community was abuzz when Silicon Valley law firm Cooley opened a Santa Monica office last summer.
Since then, Cooley has added more than 160 clients, many of them small L.A. startups. Now the four-partner firm has hired two new partners to expand its practice to better serve later-stage companies.
Cooley announced Tuesday that it has hired Thomas Hopkins and Ian Smith, both formerly of Sheppard Mullin Richter & Hampton LLP in Santa Barbara.
Hopkins had been a partner at Sheppard Mullin since 2001 and co-chaired the firm's global corporate practice group. He's best known for his work taking media and technology companies public.
Hopkins represented RealD during its 2010 public offering and Jamdat Mobile during its 2004 IPO. His more recent clients at Sheppard Mullin include LegalZoom.com, which delayed its IPO last year, and OpenTable.
"I was very content at Sheppard and I was not looking to leave," Hopkins said. "But what I like to do, Cooley does more of it. I'm really excited about what we're going to try to build here in L.A."
Hopkins said he expects to bring many of his former clients with him to Cooley.
Smith, who joined Sheppard Mullin in 2001 and became partner in 2008, adds venture capital and M&A experience to Cooley.
Both Hopkins and Smith will split their time between Santa Barbara and Los Angeles.
David Hernand, partner-in-charge at Cooley's Santa Monica branch, said adding Hopkins and Smith to the team gives the firm a greater reach to new clients and new geographies.

"Tom and Ian give us significant heft," he said. "If you think about Los Angeles, it's one sprawling metropolis. We're trying to cover a lot of territory. It's helpful to have a team that's connected in Santa Barbara, Ventura County and northern L.A. County."
Cooley is one of the most prominent Silicon Valley law firms servicing the technology community, and Silicon Beach companies saw its move to Santa Monica as a sign that Los Angeles is gaining recognition as a tech hub.

Cooley has grown its Santa Monica office to 11 attorneys, in addition to its partners, since opening in July. Hernand said the firm wants to add a litigation team in addition to its transactional team and will grow to at least 50 lawyers.
The firm last week moved into its newly renovated office on Santa Monica's Second Street. The office, which overlooks the ocean, has room for the firm's significant growth in addition to indoor and outdoor areas to host events.
"We want to have a substantial office here," Hernand said. "We've created a group that's humming along. The initial strategy is paying off incredibly well, but we want to grow."