TECHNOLOGY: RAYTHEON LOOKS TO CONNECT WITH FIRST RESPONDERS.
Defense Contractor Cops to Pursuing Police Work
Monday, February 11, 2013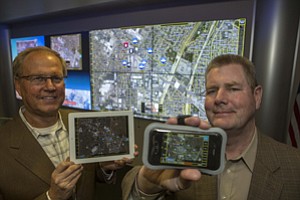 Battle-tested technology is marching home, again.
Raytheon Co.'s Public Safety Regional Technology Center in Downey has begun programs with local law enforcement agencies that will bring tools developed for the Defense Department to American streets. One, a mobile app that lets police and firefighters use smartphones and tablets to plan and execute missions, has been deployed to the Downey Police Department as part of a pilot program.
The domestic focus by Raytheon, which employs about 24 people at its year-old public safety center, is part of a broader effort by defense contractors to leverage technologies developed for the military into new profit centers as defense spending declines. The trend has already been seen in the effort to apply such technologies as unmanned aerial vehicles, commonly called drones, to domestic law enforcement efforts.
"What we're trying to do is capitalize on all the research and development work we've done and bridge that over into public safety," said Daniel De Sollar, director of the technology center.
Raytheon has other projects under way in Los Angeles County. It is installing an in-car laptop computer and networking system in 2,500 Los Angeles County Sheriff's Department vehicles and has a mobile device-based communication system being tested by Downey's police force.
The app being tested in Downey, called One Force Mobile Collaboration, displays and shares digital data that officers and their commanders can use to coordinate with each other. The technology allows first responders to share information in real time with commanders, who can draw lines on maps to show officers an incident perimeter and give directions, such as pinpointing a spot where a helicopter can land. Engineering Director Greg Mikkelsen participated in both programs.
Such real-time visual sharing on devices running on Apple Inc.'s iOS, Google Inc.'s Android and Microsoft Corp.'s Windows operating systems could prevent miscommunication that puts lives in danger, said Mike Bostic, director of customer advocacy at Raytheon.
"As an incident commander, you're always completely frustrated when you don't have live updates," said Bostic, who after 34 years at the Los Angeles Police Department retired in 2007 as an assistant chief. He joined Raytheon a little more than a year later. "This will give me real live updates of what's going on in the field."
The company declined to say what it has invested in the technology transfer effort and would not offer revenue projections for the division. The public safety center is a unit of Raytheon, a big defense and government contractor in Waltham, Mass.
Prev Next