Snapchat Moves Into Venice
Tuesday, February 5, 2013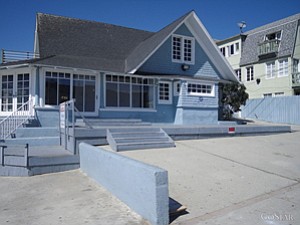 Snapchat is staring at you, Venice boardwalk.
The company that makes a popular picture and video messaging app has quietly moved into the "Blu House" on 523 Ocean Front Walk. Quietly, that is, considering employees already have erected a human-sized mockup of the app's icon – a smiling ghost sticking out its tongue, all in front of a bright yellow background – outside the famed property.
A source told the Business Journal the Snapchat team was planning on staying in the building for the long term. The growing company is in the midst of a fundraising round, and it has already moved from its original workspace in a Pacific Palisades home. The Blu House is 2,600 square feet, according to Co-Star.
Snapchat is the messaging app that lets people send photos and movies with built in self-destruct feature, which to older people means it's for sexting, though it isn't officially for sexting. The app was built by founder Evan Spiegel while he was student as Stanford and has since become one of L.A.'s hottest and most tight-lipped tech companies.
The source couldn't confirm any reports that the Venice building's new tenants were planning on painting the historic blue building Snapchat yellow. The building was constructed in 1901 and once served as office space for Nike.