Space to Move
INTERNET: Eventup looks to link up its list of unusual rentable venues with party and event planners.
Monday, February 4, 2013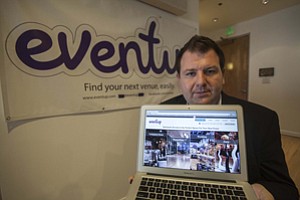 "There's considerable interest in trying to solve an age-old problem in real estate: matching up people's demands with the available space," said Bob Bridges, a professor of finance and business economics at USC's Marshall School of Business. "The Internet can help make that info more widely available, but nobody has found that right formula yet."
Online hub
Adam arrived at the idea for an online market for event space a few years ago, after hearing about the difficulty a friend's mom was having in renting out her ranch in Santa Barbara. It made no sense, he thought, that someone who owned a desirable venue couldn't easily be linked up with a party planner. Adam has worked in tech for a decade, including online marketing positions at San Francisco's PayPal Inc. and Myspace Inc. in Beverly Hills.
He and co-founder Colby Palmer brought the idea of an online hub for event planners and property owners to Science in 2011; last May, the company raised $1.8 million in a seed funding round led by Chicago venture capital firm Lightbank.
Eventup currently has 35 employees, most of whom work in the Santa Monica headquarters, and a few in a Chicago sales office. Eventup officials didn't disclose revenue, but Adam said the company has been averaging monthly revenue growth of 60 percent during the past eight months.
Eventup's business model bears some resemblance to San Francisco's Airbnb Inc., a website that lets homeowners turn empty houses, vacant bedrooms or empty couches into a hotel room. That service has been a big hit with travelers looking to book a room on the cheap or find a place that's outside the hotel-motel paradigm.
But Adam said Eventup has a much larger scope than just arranging a place for someone to crash for a night or two.
"Events are so different; it's not as standard as a quick booking for a hotel room," he said. "And we're looking to add in other services like catering and floral arrangements, so we can really scale upwards beyond just the space rental."
Good reviews?
Like all new businesses offering online services, Eventup is dependent on word of mouth to help people feel comfortable listing their properties on the site. It only takes a few bad renters to trash a few venues or some properties that don't come as advertised and Eventup could be quickly stuck with a toxic track record.
That possibility worries USC's Bridges.
"You never know what you're going to end up with when you go through websites sometimes," Bridges said. "That problem needs to be overcome for venue owners to gain confidence that the lessors are legit. And vice versa."
Adam said he's aware of his company's need for a spotless record, and though no disaster has happened, Eventup has a $1 million insurance coverage on each rental. It's an important safeguard for a company that lists high-end properties, such as a three-story rooftop loft in Tribeca. But the Eventup bookings, which have thus far been used largely for corporate events, don't exactly cater to the rock-star room-trashing crowd.
"We haven't handled too many 21st birthdays yet," Adam said. "We work more with a wedding, bar mitzvah or corporate event kind of audience."
Prev Next