INTERNET: EVENTUP LOOKS TO LINK UP ITS LIST OF UNUSUAL RENTABLE VENUES WITH PARTY AND EVENT PLANNERS.
Space to Move
Monday, February 4, 2013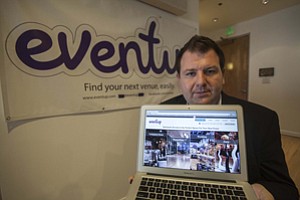 The housing market might finally be in recovery, but Eventup Inc. doesn't mind when a nice mansion sits on the market for a while.
The Santa Monica company runs a web-based service that hooks up event planners with available venues, and some of its prime spots have come thanks to an abundance of high-end houses looking for permanent tenants.
One listing for Eventup is a two-story mansion nestled against a hillside in Beverly Hills. While the owner has been searching for a long-term tenant, the space is available for a corporate event or wedding for about $3,500 a night.
Growth has been brisk for Eventup since it launched last year out of Santa Monica incubator Science Inc. The company has expanded its service to eight large cities, including last month's move into Washington, D.C., and now has more than 5,000 venues.
Co-founder Tony Adam said the service fills a need both for people looking for a distinctive location for an event and for property owners who want to make some money on the side.
"A lot of these spaces are vacant while they're on the market and stay vacant for multiple months at a time," Adam said. "For some of these underutilized assets, a homeowner can easily make tens of thousands of dollars a year renting it out for events."
Eventup's site works as a resource for property owners as well as the event planners. Someone who wants to offer a space as a potential venue can list it on the site for free, along with minimum and maximum rental rates. The property is then added to the directory of available venues that an event planner can peruse on the site. People can request a price quote on specific venues and the final rate is negotiated by the property owner and Eventup's internal sales staff. The company takes a 15 percent cut from each rental.
Although the majority of properties that Eventup deals with are residences, the site has a wide roster of venues, including restaurants, galleries and banquet halls. Locally, the prices range from $500 a night for a quirky arboreal manor in central Los Angeles up through $25,000 for a night at the Sowden House in Los Feliz. Eventup embraces many of the more unusual spots around town, including a Hollywood Hills estate that looks like a castle – complete with moat and drawbridge.
The company's niche in the online rental world is fairly new. While event planning is often handled by agencies that have connections to various venues, the concept of culling all the venues in a central marketplace is an update to a commercial real estate industry that has been slow to migrate online.
Prev Next