Former Snapchat HQ Available to Lease
Tuesday, December 3, 2013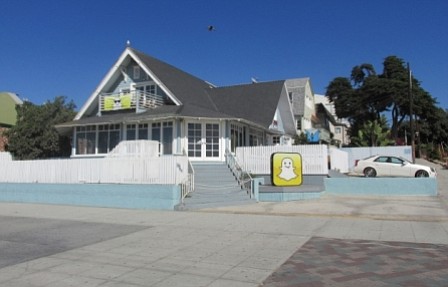 A startup looking to tap into some Silicon Beach success might want to consider leasing a property that recently hit the rental market.
The former Snapchat office along Ocean Front Walk in Venice is available to lease. The messaging startup tweeted out the news on Tuesday with a link to the property's profile on LoopNet.
The 2,600-square-foot property known as Blu House is available for a monthly price of $6.40 per square foot. The creative office space is at 523 Ocean Front Walk. LoopNet doesn't indicate whether the lease includes the giant yellow sign featuring the Snapchat ghost that the startup erected out front.
The Business Journal reported last month that Snapchat had moved its headquarters out of Blu House and set up shop a few blocks away at 63 Market St. At 6,000 square feet, the new office is more than double in size.
At the time, Ted Folkert, who represented the owner of Blu House, said the company's lease would run through March. He also noted that the company had outgrown the office.
Since Snapchat's move, rumors have been swirling over the fate of the startup. AllThingsD reported that the company was considering a $200 million investment led by China's Tencent that would value the company at nearly $4 billion. Meanwhile, Wall Street Journal reported that Snapchat had declined Facebook's acquisition offer of $3 billion in cash.