What Kind of Game Are They Playing?
Riot scores athlete visas to field top names for 'e-sports' tourney.
Monday, August 5, 2013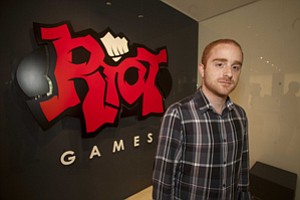 The Championship Series is modeled closely after professional sports. The season is 22 weeks long, split by an all-star break (and even has a trading deadline). Beck said Riot has plans to build up an amateur and semiprofessional circuit.
While the gaming industry has struggled in the last few years, Battlefy's Xu sees Riot's success as the result of its close and abiding relationship to its fans.
The effort to get special visas was spurred by a Canadian player, Danny Le, of Team Coast.
"They built loyalty and that's rarely seen in the market," Xu said. "After that, it's like a snowball effect."
False starts
This isn't the first time the mainstream has started to take notice of gaming's plugged-in subculture. Major League Gaming once had a deal with ESPN through its streaming site ESPN360.com to live stream video-game tournaments; it has since lapsed. El Segundo's DirecTV, in a joint venture with News Corp., created the Champion Gaming Series sports league in 2007. But high costs and underwhelming ratings forced the league to fold in 2008.
Major League Gaming's DiGiovanni said early attempts to broadcast gaming didn't embrace the requirements of TV.
"It was very early in the lifecycle of monetizing these kinds of videos," DiGiovanni said. "Nowadays when we stream an event, we have commercial blocks like a traditional sports broadcaster."
Finding the right way to make money on the spectacle of gaming has been a balancing act for Riot.
Beck said the company is fiercely protective of its brand. It has avoided the siren call of Hollywood studios to quickly turn the property into a film.
Riot has also been open about rejecting certain advertisers it deems a poor fit for its young audience. When Daimler AG came calling for Mercedes-Benz spots, Riot gave them a pass.
"Our players aren't driving Mercedes-Benz; it just wouldn't make sense," Beck said. "We like to think of ourselves as 'The Masters,' which only features the right advertiser for its audience."
Riot has also taken full ownership over the broadcasts. "League of Legends" tournaments are wholly owned and streamed through partnerships with YouTube LLC and Twitch. Given that the audience is already online, the company has no plans to branch out into a TV deal.
Although more and more companies are lining up to advertise during Riot's broadcasts, Beck said its rates per one-thousand impressions still lags behind television.
That could be attributed in part to the sluggish growth of online video advertising. Beck argued that "League" broadcasts are an outlier in the video-streaming world; the average watcher of a YouTube video spends about seven minutes in front of the screen; tournament watchers are doing 10 times that.
The Staples Center event is a huge expense for Riot, one executives said will likely lose money for the company.
But looking at e-sports strictly as a revenue source misses the point. For Riot, e-sports, in way that seems to run directly counter to everything in professional sports leagues, is not about the money.
"Even when it does make us money we're just going to be reinvesting it back into e-sports," Beck said. "We're not just doing this for revenue. We're doing this to give our fans an awesome experience."
Prev Next