SPORTS: SPECIAL OLYMPICS TO BE BIGGEST EVENT IN 31 YEARS.
Medal Event Shows Mettle
Monday, April 29, 2013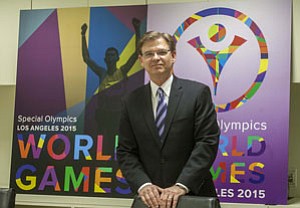 It will be L.A.'s biggest sports event since the 1984 Olympics.
More than 7,000 of the world's top athletes with intellectual disabilities will compete in Los Angeles in the 2015 Special Olympics World Summer Games.
"The Special Olympics will have more athletes from more countries than the 1984 Olympics," said David Simon, president of the Los Angeles Sports Council and 2015 Special Olympics board member.
Organizers expect athletes, their families and 3,000 coaches from more than 170 countries to travel to Los Angeles for competition in 27 sports. They expect 2,000 media in attendance and 500,000 spectators at venues such as Staples Center, Pauley Pavilion and Home Depot Center.
The nine-day competition will kick off with an opening ceremony at the Los Angeles Memorial Coliseum on July 24, 2015. It's the first time the event will be staged in Los Angeles.
The LA2015 non-profit company manages the 2015 Special Olympics, also known as the World Games. The organization, in downtown Los Angeles, has a fundraising target of $90 million. It now has 11 full-time employees for fundraising and planning, but in the next two years leading up to the event, the organization will add 150 full- and 200 part-time employees.
The athletes and coaches will pay their own way to get here. But once in Los Angeles, the host committee will provide food, housing, medical care and even translators for participants throughout the three-day welcome program and nine-day competition.
"We're going to provide 360,000 meals over 12 days," said Patrick McClenahan, chief executive of LA2015. "In total, we have 67 different cost centers and a 1,300 line item budget."
Transportation will be one of those costs. Participants will be shuttled to 27 venues throughout Southern California.
Athletes and coaches will stay in dorms at USC and UCLA; about 6,500 will stay at USC and 3,500 at UCLA.
The $90 million is a fraction of the $14.9 billion that the 2012 London Olympics reportedly cost, although the regular Olympics typically involve immense construction projects.
The Special Olympics follow a similar format to the International Olympics, but for athletes who have intellectual disabilities. (Physically disabled athletes compete in the Paralympics.)
The athletes will participate in 27 competitions and demonstrations, including badminton, basketball, gymnastics, powerlifting and sailing.
The Special Olympics was founded by Eunice Kennedy Shriver, who organized the first one in Chicago in 1968. Smaller events are held annually across the world. The major international competition alternates every two years with winter and summer competitions. Pyeongchang, South Korea, staged the 2013 World Games winter competition. Athens, Greece, was the site of the last summer competition in 2011.
Prev Next