Getting Down to Business on the Side
Wednesday, April 24, 2013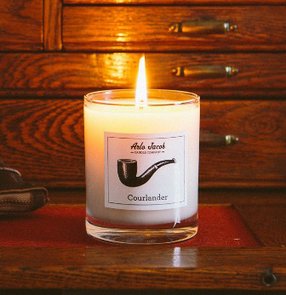 Side Business
Many employees say Media Temple's support of their businesses goes beyond giving them flexible vacation time.
Jason McVearry, editor in chief of content, said his Media Temple colleagues were some of his first customers when he opened up take-out restaurant Poke-Poke on the Venice Beach boardwalk in 2010.
"Demian personally came by to check out the shop one night," McVearry said. "I got all these regular customers who were also Media Temple employees. It really helped our word of mouth."
McVearry and his wife run Poke-Poke together. In the early days, McVearry spent most of his weekends at the restaurant, which specializes in its namesake dish – a Hawaiian style ahi tuna tartare. But today, he has a staff of five that allows him to be more hands off with the business.

Candle shop owner Setzen, on the other hand, has no employees. Culver City candle manufacturer Stone Candles produces the $38 wax pillars. He then sells the candles online and fulfills orders for a few hours each weekend. His 5-year-old son puts the "fragile" stickers on the packing boxes and his wife is helping develop two new candle scents.
"Being here at Media Temple, I'm surrounded by our clients who are extremely creative people," Setzen said. "I wanted to get back to doing something on the side. I'm finding out how to balance doing that with my Media Temple work, which I also enjoy."
Prev Next
Page 2 of 2.