Getting Down to Business on the Side
Wednesday, April 24, 2013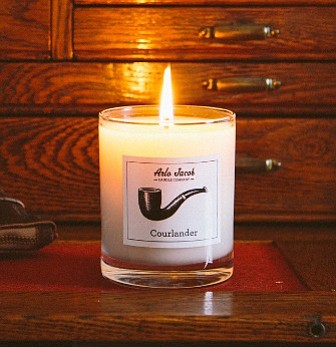 In the five months since Jon Setzen started candle business Arlo Jacob, he's sold about 2,500 of his pipe tobacco scented candles.
It's a steady business but not Setzen's primary source of income.
In addition to being a small business owner, Setzen is creative director at Culver City web hosting company Media Temple. And he's not alone in holding down more than one gig.
Media Temple has an unwritten policy that employees who want to start their own businesses are free to do so. In addition to Setzen and his candle company, there are employees who run restaurants, own party planning businesses and front bands.
"For years I've spent my evenings after my kids go to sleep working on work that I couldn't do during the day," Setzen said. "We work hard here at Media Temple, but my evenings give me time to myself. To have a workplace that supports people's side businesses and creative freedom is really nice."
Media Temple bills itself as a web hosting company for creative types. Many of its 125,000 customers are photographers, musicians and small business owners – in addition to corporate clients such as Red Bull and Diesel jeans.
Chief Executive Demian Sellfors said the company supports the outside projects of its more than 200-person staff because the side businesses help keep employees engaged while they provide customer support.
"It's vitally important that we are spending time outside the office having experience and being exposed to things that inspire us," he said. "It actually makes the customer experience better because our employees are involved in a small business or are entrepreneurial as well."

Many tech companies are known for their liberal policies regarding employee ventures. Google Inc. has drawn notice for its policy that employees can spend 20 percent of their work week on pet projects. Culver City advertising agency WDCW implemented a similar strategy in 2009.

Media Temple has very few policies in place regarding staff side projects. All employees keep track of their own vacation time and get an additional month off every three years as a kind of mini-sabbatical.

Sellfors said the company is results oriented. As long as employees fulfill their Media Temple responsibilities, they are not questioned about taking time off to run their businesses. But at the same time, if employees can't figure out how to manage both jobs, Sellfors said he won't hesitate to let them go.
Prev Next