Privacy Apps' Popularity Spreads
INTERNET: WhisperText and Snapchat step into social gaps.
Monday, April 22, 2013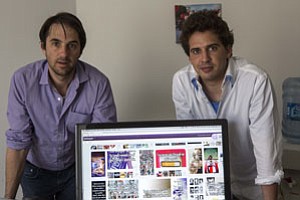 Designed to be the Snapchat killer, the feature was an unmitigated flop. Not only did it fail to stem the upstart's popularity, the increased attention Snapchat got from the controversy might have spurred even more downloads.
Executives at Snapchat did not return requests for comments, but Lightspeed partner Jeremy Liew believes Facebook's copycat was doomed from the outset.
"When people join a social media site, they learn to use the community in an organic, specific way," Liew said. "What Facebook did is they pushed through their app and it didn't have the ability for organic growth. People didn't know what to do and it dropped away really quickly."
Ad revenue
When it comes to scaling these new companies, building the audience might have been the easy part.
Whisper has a revenue stream from its private messaging service. People who want to reach out directly to posters are charged 99 cents to participate in a single conversation, $5.99 for a month of unlimited messages.
Heyward and Brooks said the paid messages are not directly intended to make money, but rather to deter spammers. Charging people a nominal fee to weed out robot messengers is something Facebook has used as well.
These private messages on Whisper have turned out to be a popular feature; Company executives said people send nearly 1 million each day.
They didn't specify exactly how these messages break down in terms of single 99 cent payments and ones from monthly subscribers, so it's hard to determine how much money it brings in. Heyward said this revenue is covering a "decent amount" of the company's costs.
For both Snapchat and Whisper, the big money will likely come from advertising toward their massive audiences. But each one presents some interesting problems.
Snapchat, since its inception, has been dogged by accusations that it's the ideal tool for "sexting," sending explicit images through cell phones.
Co-founder Evan Spiegel has repeatedly minimized those charges, but the aura of an app transmitting explicit content could scare off higher-paying advertisers. Still, he mentioned at a recent tech panel that Snapchat had been toying with a few ad prototypes.
Whisper has a different problem. No doubt the confessional nature of the posts would give advertisers access to a wealth of information to create targeted ads. But there's also an expectation of privacy that Whisperers might come to expect. Would it be a violation if, say, a person who anonymously comes out on Whisper starts getting ads targeted at a gay audience?
"They're going to make more conservative decisions first," said USC's North. "You can say the decisions being made are in part for financial reasons but they'll walk a fine line of how to advertise based on what people choose to reveal."
Heyward and Brooks maintain that advertising on Whisper, in whatever model the company uses, will remain discrete and respectful. The emphasis now is on continuing to build the sense of community and making it a safe space for people to confess.
The balance between business and personal service has perhaps been the alchemy behind the lightning-fast adoption of the new social media apps.
"It speaks to the notion of people wanting to connect on an authentic level and see things they can't see anywhere else," Heyward said. "It's post-Facebook."
Prev Next