Privacy Apps' Popularity Spreads
INTERNET: WhisperText and Snapchat step into social gaps.
Monday, April 22, 2013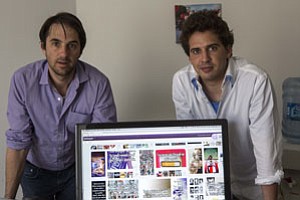 What they're not
The philosophy and appeal behind these two apps are slightly different. Whisper works as an anonymous note that someone posts to a public forum and remains permanent. Snapchat messages are sent only to acquaintances and are ephemeral by design.
But they emerge at a time when studies have shown teenagers and college students losing interest in Facebook, the dominant social network.
"Facebook has become so central that it's more of a public utility rather than a platform for frivolous play. Kids are looking for the next opportunity to have fun interactions with each other," said Karen North, a social media professor at USC's Annenberg School for Communication and Journalism. "With these apps you're announcing to the world, one way or another, 'I'm not trying to be judged for this. It's just a moment.' "
Whisper was born as a spin-off of another secure messaging app, TigerText Inc., which was designed to be a self-destructing messenger aimed at consumers (not unlike Snapchat), though has since pitched itself as a tool for health care professionals to communicate with patients.
Founder Brad Brooks hired Heyward as an early employee of TigerText – the two are childhood friends – and when Whisper was conceived, Heyward headed up that project. Brooks is listed as co-founder at both companies, and splits his time between the two offices, both on Montana Boulevard in Santa Monica.
Whisper, currently available only for Apple Inc.'s iOS devices, works as both a browsing and creation app. Once a message is posted, people can either respond with another message or send a direct private communication for a small fee.
The only identifying mark on each confession is an optional location tag that gives a general idea of where the user is when posting the message.
These location tags are what creates Whisper's community feel. People on a college campus can sort through nearby messages from fellow students, and thanks to an aggressive marketing push, Facebook fan pages showing Whisper posts have popped up for nearly every major college.
That reliance on Facebook to build the community is what keeps Whisper from ever being a true threat to the social site.
"I don't see us as competitive with Facebook," Heyward said. "Whisper is a different type of interaction and it's not something Facebook can do."
Snapchat, however, has not been quite as chummy with the uber social network.
As the app began to gain popularity in late 2012, Facebook rushed to release its own take on a self-deleting messaging service.
For reprint and licensing requests for this article, CLICK HERE.