Sequencing Venture Capital
Special Report: Tech Finance
Monday, April 15, 2013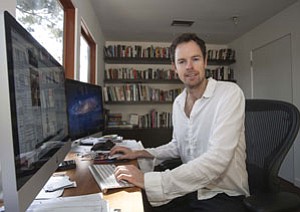 What is your benchmark for how many deals you make a year?
If I were smart, I'd have more of a sense. But then again, you don't know when something great is going to happen. I know how much I have in my personal bank account and I have to watch that. That's probably the biggest indicator.
Describe a time where you made a mistake or regretted an investment.
The second deal I saw was AirBNB, which I didn't end up doing because I was just so new at investing. I kick myself every day for that. But it gave me the impetus to be more aggressive as an angel.
Stage 3, Small VC: Most Active in L.A.
In the last year, at least four venture capital firms dedicated to funding at the seed and early A rounds have sprung up in Los Angeles. They have joined a group that has become the most populous and frequent investors in the local tech scene.
New to this cadre of companies – which invest between $100,000 and $1.5 million in each startup – are Karlin Ventures, Tenoneten Ventures, Canyon Creek and Plus Capital. Already established in this funding stage are Baroda Ventures, Siemer Ventures, Anthem Ventures, Double M, DFJ Frontier, CrossCut and others.
In a sense, the sheer number of local companies that participate in these smaller funding rounds reflects the stage in which L.A. tech finds itself. Plenty of startups have come together (perhaps through an accelerator), stabilized their revenue models and are looking for the first infusion of significant money to prove their business model.
"The early stage funding is probably the strongest I've seen it in 20 years," said Paul Bricault, a longtime venture capital investor in Los Angeles. "Hopefully that means more companies will have the capacity to bring in late A or B rounds and eventually exit."
At this level, companies that pitch themselves to the venture capital community have enterprise values hovering around $30 million.
In most cases, V.C. firms have the option of taking the role of the round's lead investor or following as part of a financial syndicate. Taking a lead position requires a firm to be the largest investor as well as taking on the responsibility for vetting a business's bona fides.
The choice of whether to lead or follow is often intrinsic to a firm's investment strategy. While leading a round gives an investor a larger equity stake in the startup, they risk greater losses should the business go under.