YOUTUBE CHANNELS TEAM UP TO SCORE BIGGER AD RATES
Video Links
Monday, April 1, 2013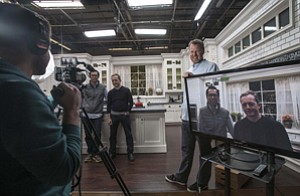 Another YouTube network has emerged fresh from the oven of L.A.'s online video industry – this one dedicated to food.
Tastemade, launched last month and founded by three longtime executives from Santa Monica's Demand Media, is developing a brand of foodcentric videos that feature a bite-size style endemic to the Web.
One clip on the channel is a wordless step-by-step video that shows in tightly framed, deftly edited shots how to brew apple cider. It lasts barely a minute but has racked up more than 800,000 views.
The channel is the latest entrant to a category known as "multichannel networks," a group that bundles different Web series to help them scale. It's a category that has come to dominate the young YouTube economy, which is increasingly centered on the Westside and Hollywood.
In short order, Tastemade has already achieved a measure of success. It launched with $5.3 million in venture capital funding, led by Redpoint Ventures of Menlo Park, and has brought more than 60,000 subscribers to the channel.
"History is repeating itself, just like cable 30 years ago when some amazing brands were built," said Steven Kydd, who co-founded Tastemade with Joe Perez and Larry Fitzgibbon. He spoke from one of the four cooking sets on network's soundstage, built inside a Santa Monica warehouse that once served as a set for MTV. "We think we can build a category-defining brand for all things culinary in the digital space."
Tastemade's launch comes amid an investment frenzy in multichannel networks. A month earlier, Hollywood's StyleHaul, with an emphasis on fashion, closed a $6.5 million funding round. Those moves arrived after a banner 2012 investment year, when Maker Studios and Machinima each secured eight-figure deals from Time Warner Inc. and Google Inc., respectively.
There are variances in the business models of multichannel networks, but generally the pitch they make to individual Web series is to band together with a large group to drive up viewers and command better ad rates.
For Tastemade, that means that aside from the series it commissions, the company also has a network of 100 affiliated cooking shows it does not produce. A series that signs with Tastemade as part of its network is given a chance to film on one of their cooking sets, cross-promote with other series and, theoretically, make more money.
Aligning with a multichannel network has become something of a necessity for most YouTube-based Web series.
Prev Next