VIDEO SITES TAP NICHES TO TAKE AIM AT YOUTUBE
Tighter Focus
Monday, May 28, 2012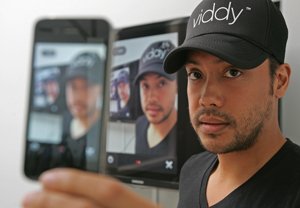 "By the time it got shared out it was already past the point of relevance," Aguhob said. "That was kind of the inspiration: How can I make really great short movies of my friends, in that moment, and share it out for everyone to see?"
O'Brien said he saw two openings in the market that gave him confidence. One was the wealth of unedited videos people have stored in their hard drives and devices. The other was the mass use of smartphones and mobile devices.
"If you put those two things together, there's bound to be a huge market of opportunity," he said.
O'Brien and Aguhob had previously worked together at Xdrive, a cloud computing company that O'Brien started, and sold to New York's AOL Inc. in 2005.
"The idea was to bring the band together," O'Brien said. "This time we kind of thought we could be early into what would be a big opportunity around mobile social video."
The duo bootstrapped for three-and-a-half months before they had a working prototype. Then in April 2011 they raised $1.6 million from venture capitalists and launched the company days later.
Today, the company has a staff of 15 and plush offices blocks from the beach. Investors include San Diego telecom giant Qualcomm; Biz Stone, who is the co-founder of Twitter; and Christina Brodbeck, a co-founder of YouTube. The new financing comes from New Enterprise Associates, Goldman Sachs, Khosla Ventures and Battery Ventures.
Take two
Is this the year video-sharing sites make their mark or is Viddy's recent big funding just a flash in the pan?
Kevin Winston, founder of online marketing company DigitalLA, said if Viddy figures out a monetization strategy, more companies will get the confidence to jump into the space.
Winston, who produced social campaigns for Fox Interactive Media and Sony Pictures Digital Inc., said it's too early to predict whether these companies will have long-term success, but having celebrity support helps.
That support includes investments in Viddy from pop singer Shakira, and rapper Jay-Z, through his Roc Nation record label.
Roger Mincheff, new president of Beverly Hills' Myspace Entertainment, said public desire to use social video is there. Brands and audiences have a thirst for video but the hurdle to overcome is monetization.
"It's a great idea, but it's a question of scaling to educate the marketplace," he said.
Mincheff, who spent two years running branded entertainment at 20th Century Fox's film and TV studios, said competition is another problem facing social video sites.