Lender Takes Borrowers' Receivables Into Account
FastPay adapts apparel industry model for web company clients.
Monday, June 25, 2012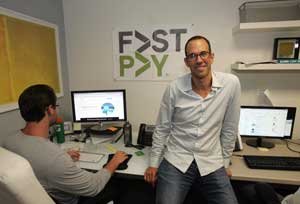 Simon, a former executive at DreamWorks Animation SKG, wouldn't disclose revenue but said the company is profitable.
Simon said FastPay has disbursed more than $45 million since 2009, with loans ranging from $100,000 to more than $5 million.
FastPay will only fund profitable startups that have revenue of at least $50,000 a month. The company also uses a computer model to help decide whether or not to approve funding. If a company is approved, funds are usually delivered within 48 hours. A key factor is the brands working with prospective borrowers.
"We're not concerned about how creditworthy our clients are," Simon said. "We're interested in who their advertisers are. We look at the company. We look at the people. We look at who owes them the money."
Segura, founder and chief executive of Giant Media, creates online video content for Acura, Honda and American Express.
With clients like that, FastPay has loaned the Santa Monica company more than $2 million since 2010, mostly to cover daily operations, Segura said. And with a 60- to 90-day gap between completing a project and getting paid, FastPay's loans have kept his employees paid and his business growing.
"Without that it would have been much harder to grow," he said.
Yanier Gonzalez, the founder of San Francisco video game blog Destructoid LLC, is another FastPay client. Gonzalez met Simon at a party, where he told him about the challenges of getting funding from a financial institution.
Gonzalez said FastPay now helps him make payroll and travel to industry conferences such as last month's Electronic Entertainment Expo in downtown Los Angeles.
"They totally got what I was doing, and understand my challenges as an online publisher," he said. "I don't know if I would still be around if it wasn't for Jed's help."
Prev Next