SANTA MONICA WEB FIRM SAVINGS.COM WON'T DISCOUNT VALUE OF NEW OWNERSHIP BY COX MEDIA.
Deal Makers
Monday, July 16, 2012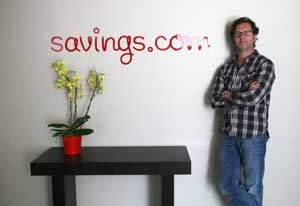 How many coupons does $100 million buy? Atlanta's Cox Media Group is hoping a whole lot – and millions more people using them.
Last month, Cox purchased Santa Monica e-coupon site Savings.com to help Cox strengthen its online presence. Cox owns Valpak, the paper coupon mailbox stuffer that reaches 44 million households nationwide.
Five-year-old Savings.com offers e-coupons for everything from wine and groceries to gym memberships, clothes and electronics. The site focuses on major national brands such as Dell and Sears, and allows companies to offer web deals through the Savings site. When customers visit Savings.com and find deals and redeem coupons, Savings gets a commission.
Essentially, the deal marries a digital-only company that wanted to get into print and target smaller local businesses with a print company that wanted to go more digital and hit larger national brands.
"Valpak opens up a whole new world," said Loren Bendele, Savings co-founder and president. "We can drive the digital side of that for them while they're driving the paper side. Everything we do well, they don't do at all."
Bendele, 40, said his site continues to grow, attracting 8,000 new customers a day. Today, it has 5 million visitors a month. Cox's Valpak mailer reaches almost one-third of households in the United States.
The new deal will allow Savings' national merchants to be able to distribute deals and coupons through Valpak. Savings will now be able to provide online coupons for use at small businesses and have its deals promoted by Valpak. Savings will continue as a separate company, retaining its 75 employees including the management team and 14,000-square-foot office.
Michael Vivio, president of Cox Target Media, a subsidiary of Cox that includes Valpak, said the deal also gives his company the opportunity to adopt Savings' commission model for some of its clients. Savings usually takes 6 percent to 7 percent of sales on redeemed coupons. Valpak now plans to sell distribution of coupons to some merchants up front.
"What we're creating here is the ability to have that mass reach and do it in a pay-for-performance customer-savings way Savings.com is known for," Vivio said.
Deal hungry
Bendele grew up in Duncanville, Texas, a town of 40,000 south of Dallas. When he was only 8, his dentist father passed away, leaving his mother to raise four children on her husband's insurance policy.
She used grocery coupons to help feed the kids, dressed them in hand-me-downs and taught her son the value of stretching a dollar.
Prev Next