STARTUP LP MOBILE HOPES NEW PARENT CAN SPARK SALES.
Tech Support Firm for Apps Appreciates Backing
Monday, July 2, 2012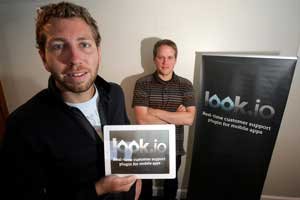 Ethan Alexander read about a startup in Venice that did tech support for mobile applications on a blog. He helped his company purchase the startup last month, even though it's never made a dime.
Alexander, head of the mobile division of New York customer service provider LivePerson Inc., was looking for a way to transition to mobile after specializing in serving businesses online. The startup, LP Mobile, is now part of LivePerson, which bought the company for an undisclosed sum.
Thanks to LP Mobile's technology, LivePerson can give customer service reps the ability to see people's mobile screens and help them in real time.
And thanks to LivePerson's sales and marketing, maybe LP Mobile – until the sale known as Look.IO – will be able to make some money.
"We never actually had any revenue," said Grant Miller, LP Mobile's co-founder and director of mobility strategy.
The company was giving away the service to its first clients in order to make sure it was working correctly. But there was another issue, too.
"I'm famously terrible at sales," the 29-year-old Miller acknowledged.
LP Mobile's five-person team will stay in Venice. LivePerson plans to spend the next few months integrating the mobile functions into its operations, which include serving 9,000 clients such as Microsoft Corp. and Verizon Wireless. LP Mobile, which is working out of offices at startup accelerator Amplify.LA, is looking for new office space.
Alexander said LivePerson will offer pricing based on client needs.
LP Mobile had previously contracted with a handful of local online businesses, giving away its product for free to last-minute hotel booking site Hoteltonight.com and TestMax Inc., an LSAT prep application.
Alexander said he wasn't concerned that Miller's company didn't have paying customers. In fact, it made the purchase even more attractive.
"There's a little less baggage to deal with," he said.
Miller's happy that LivePerson will be bringing LP Mobile to its first paying customers.
"We're really good at product, creating a cool experience inside of mobile, and they sort of fill in all the gaps for us," he said. "They're really good at what we're bad at, which is sales."
Mobile strategy
Here's how LP Mobile works: A buyer of a mobile app encounters a glitch. The person hits a button in the app and is connected to LP Mobile's customer service. The representative then guides the customer through the glitch via on-screen texts. The reps can show the customer where to move on the screen. They can even move the cursor, but cannot click themselves or see anything onscreen besides the app. That's out of concern for privacy, and also due to Apple regulations.
Prev Next