Off the Charts
Special Report: HEALTH CARE
Monday, November 14, 2011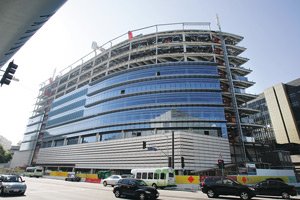 A seismic shift is under way in Los Angeles County's hospital industry.
As hospitals face a series of deadlines to meet tougher earthquake safety codes, billions of dollars of construction are reshaping the local hospital landscape.
This year alone, Children's Hospital Los Angeles opened a 317-bed patient tower in Los Feliz. Providence Holy Cross Medical Center opened a 138-bed expansion patient tower in Mission Hills. And Santa Monica-UCLA Medical Center dedicated a 266-bed replacement hospital expected to start operations in January.
These new facilities are not your father's hospitals.
Forget the sterile green walls, rank odor of disinfectants and barely edible food. Think suites with wood paneling and big flat-screen TVs, corridors with murals depicting the region's Hispanic heritage and menus with restaurant-quality entrees.
Steve Valentine, president of Camden Group, a national health care management consulting company based in El Segundo, said the industry is under cost pressure but has no choice but to remake itself.
"The public may not want to pay higher health care costs, but they still want all the latest technology and modern amenities in their hospitals, especially in a sophisticated market like Los Angeles," Valentine said. "They want private rooms and Internet access, restaurant-quality food, and to know that their doctors and nurses have the latest equipment."
Industry officials don't have a precise dollar figure for the economic impact of hospital capital projects in the county in recent years, but it's clear that they have kept thousands of local construction workers on the job as office and home construction has dried up.
Twenty-two hospitals and large medical facilities have appeared on the Business Journal's annual list of the county's largest construction projects over the past five years. They account for about 16 percent of all major construction projects during that span. Cumulatively, they cost more than $5.3 billion.
Kaiser Permanente Southern California, the county's second largest hospital operator by licensed bed count, so far has replaced or retrofitted four of its seven county hospitals as part of a more than $8 billion regional construction program.
What's more, the Los Angeles County Economic Development Corp. earlier this year estimated that there was a $23 billion backlog in hospital construction projects statewide, perhaps one-third of which are local.
"The level of construction is at historic levels," said Paul Coleman, facilities development deputy director for California's Office of Statewide Health Planning and Development, which regulates health care building projects. "We have about $9 billion in construction going on around the state right now."
Prev Next