Santa Monica Place: Coming 'Round
New mall a big boost, draw for Third Street Promenade.
Monday, September 13, 2010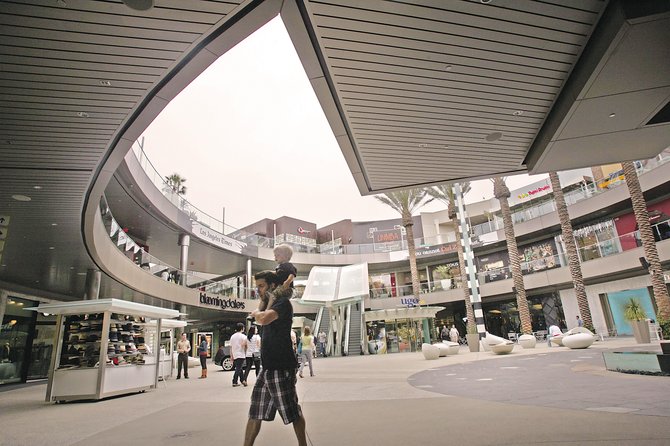 Since reopening last month, Santa Monica Place has drawn crowds that have surprised even owner Macerich Co.
Cars on their way to the mall have backed up traffic on the Santa Monica (10) Freeway. And getting a parking space on weekends is a test of drivers' patience.
But the beneficiary of all that success is not just Macerich, but the Third Street Promenade next to it as well as the rest of the city's downtown, where shopping had slowed during the recession.
"It was absolutely the shot in the arm downtown was looking for," said Kathleen Rawson, chief executive of Bayside District Corp., a public-private company that manages downtown Santa Monica. "Some merchants were cautiously optimistic in the beginning, but I think overall the consensus is that it's been a very positive month."
The renovation thoroughly reworked the 550,000-square-foot mall, essentially making it an extension of the Promenade by removing its roof and adding a third-floor deck for open-air dining. The mall has new anchors, a Nordstrom and Bloomingdale's, and retailers include Kitson L.A., Louis Vuitton and 7 for All Mankind.
In some ways, the renovation reversed the relationship of the Promenade and the 30-year-old mall; the Promenade was the one that drew the most shoppers.
The Promenade has remained popular since it was redeveloped in the late 1980s, but merchants and city officials have begun considering ways to keep it fresh.
Its aging movie theaters have long been considered a weak point, losing moviegoers to other Westside complexes such as the Landmark, the Rave Motion Pictures 18 or AMC's Century City 15.
Last month, the City Council gave city officials the green light to begin negotiations with AMC Entertainment Inc., which owns all three Promenade movie theaters, about possible upgrades. The company is exploring closing the AMC Broadway 4 and making over the AMC Santa Monica 7 with stadium seating. It is also proposing to build an 83,000-square-foot, 12-screen complex in the 1300 block of Fourth Street, at the site of a city-owned parking lot.
In late 2008, downtown property owners voted to begin paying about $3.4 million in new annual fees for maintenance, marketing and other services designed to promote downtown shopping.
"The Promenade's 20 years old," Rawson said. "Some of our capital needs to be replaced. Stuff breaks and you gotta fix it."
Keeping it going
Macerich executives estimate 100,000 people a day came to Santa Monica Place during its opening weekend.
For reprint and licensing requests for this article, CLICK HERE.
Prev Next