Photo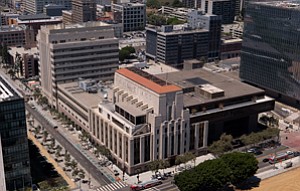 Historic Headliner: Downtown headquarters of Los Angeles Times.
Stories this photo appears in:
Tribune Media Co. finalized its sale of the Los Angeles Times building to Onni Group on Monday for at least $105 million.
REAL ESTATE: Plan calls for demolition of newer portion of site.
Onni Group may press some space at the Los Angeles Times complex into retail and office use.