Photo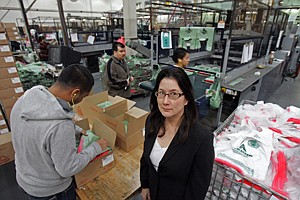 Checking In: Cathy Browne at Huntingon Park's Crown Poly in a 2011 photo.
Stories this photo appears in:
POLITICS: Sector's latest initiative would shift sack fees away from grocers.
Upset with the state Legislature's passage last year of a ban on plastic bag use in grocery stores, the plastic bag industry is mounting a most unusual attack on the law, with not one, but two initiatives aiming for November's ballot.