Universal Music Group Shares Surge in Market Debut
Monday, September 27, 2021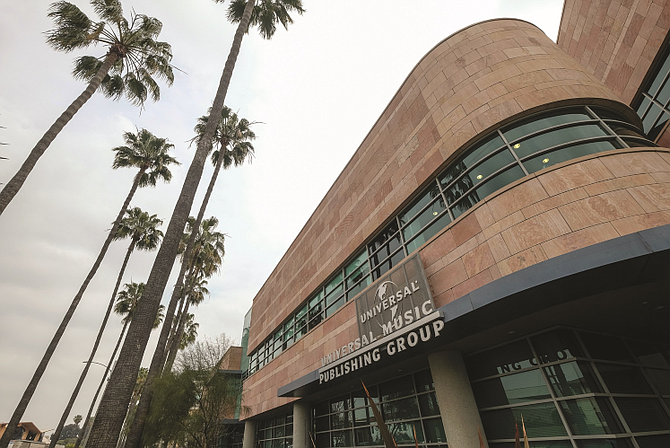 Santa Monica-based Universal Music Group is rocking the Amsterdam stock market.
 
The world's largest music label made its initial public offering Sept. 21 on the Euronext exchange with a market value of 47 billion euros, or $55 billion. It is Europe's largest listing of the year.

The music holdings company's share price jumped as high as $29.61 on Sept. 21, trading up from a reference price set the day before of 18.50 euros, or $21.70, indicating a pre-IPO valuation value of 39 billion euros. Shares finished at 25.25 euros, or $29.60.

French parent company Vivendi won approval from shareholders in June to spin off UMG, which owns the rights to music by the Beatles, Lady Gaga, Justin Bieber and Taylor Swift.
 
Top Vivendi investor Vincent Bolloré stands to reap a huge payday from the Amsterdam listing. He holds about $7 billion worth of UMG shares after the market debut. And UMG Chief Executive Lucian Grainge will reportedly receive bonuses that could amount to more than $140 million.
 
Vivendi first began divesting from UMG in March 2020 when Chinese conglomerate Tencent Holdings Ltd. paid $3.36 billion for 10% of its holdings. Tencent took on another 10% of UMG in January.
 
Then through two separate transactions in August and September, investor and hedge fund manager Bill Ackman's British investment trust Pershing Square Holdings acquired 10% of the company with investments of almost $4 billion. The hedge fund now looks at a potential gain of more than 30% of its initial investment. Meanwhile, Vivendi will distribute another 60% to shareholders and retain its remaining 10.13% stake for a minimum period of two years.
 
Even as the IPO generated higher-than-expected market activity for UMG, its former parent company's market value dropped by two-thirds during the IPO, to about $14 billion.
 
Vivendi is stepping away from UMG to refocus on its other media assets such as pay TV brand Canal Plus. Its divestiture successfully capitalized on an explosion from the music industry in streaming revenue.
 
UMG drove a significant portion of Vivendi's earnings even as recently as the first half of 2021.
 
The music giant generated $889 million from January to June, representing more than 70% of Vivendi's income during that time.

UMG dominates the industry as one of the Big Three record labels, alongside Sony Music Entertainment and Warner Music Group. It controls about 40% of the industry, and its consistent success in producing stars and hit songs continues to attract new talent.

UMG derives much of its business from rights attached to its huge catalog, which added Bob Dylan's body of work in January for $300 million. The company's continued challenge will be to invest in new musicians and songwriters with the full muscle of its marketing and distribution apparatus while offering more of the control and choice that has lured acts across the industry to sign with smaller, digital-focused competitors.
For reprint and licensing requests for this article, CLICK HERE.