Arts District Buildings Sell for $20 Million
Monday, September 27, 2021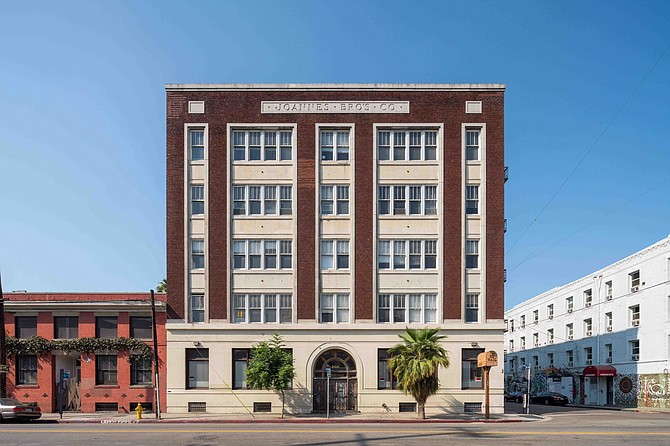 A joint venture between New York-based LIVWRK and developer Daniel Kotzer has acquired a two-building asset in the Arts District for roughly $20 million with plans to renovate and remix the property, which dates to the early 1900s.
The buildings are located at 800-810 Traction Ave. and were constructed in 1917 and 1908, respectively. They formerly housed Los Angeles Desk Co. and coffee, tea, and spice processor and wholesaler Joannes Brothers Co.
Cushman & Wakefield's Mike Condon Jr., McKenna Gaskill and Brittany Winn will be the leasing team for the project.
"The thought process behind this new redevelopment was really to deliver a project where experiential retail and office intersect, and providing a very unique branding opportunity for a future tenant," Gaskill said in a statement. "Concrete meets cashmere is the theme of the design, and no expense will be spared to make this the preeminent project in the Arts District."
The new owners plan to pump $12 million into the project, named AtTraction.
Work is expected to wrap up in early 2023. Once finished, AtTraction will have a five-story building and basement with a total of 53,400 square feet at 800 Traction. The building at 810 Traction, meanwhile, will be a two-story building and basement with 9,700 square feet.
The new owners plan to upgrade the exterior facade, add a rooftop patio deck to the 800 Traction building and gated patio space at the 810 Traction building. There is a private parking lot for both buildings. 
The campus could be fully leased to a single tenant or multiple tenants. Each building could also potentially have ground-level retail.
Kotzer is already active in the Arts District. His projects there have included Willow Studios and Arts District Brewing Co. Asher Abehsera, the founder of LIVWRK, has been very involved in redevelopments in Brooklyn.
"This is such a great story of this new joint venture formed between childhood best friends who have created a fantastic indoor/outdoor vision for this versatile Arts District property that will cater to the growing business needs of this thriving, walkable neighborhood with best in class branding opportunities," McKenna said in a statement. "This partnership brings superior qualifications and deep experience in developing this type of unique, modern, cultural space."
For reprint and licensing requests for this article, CLICK HERE.