California Market Center Readies for Completion of $170 Million Makeover
Monday, September 20, 2021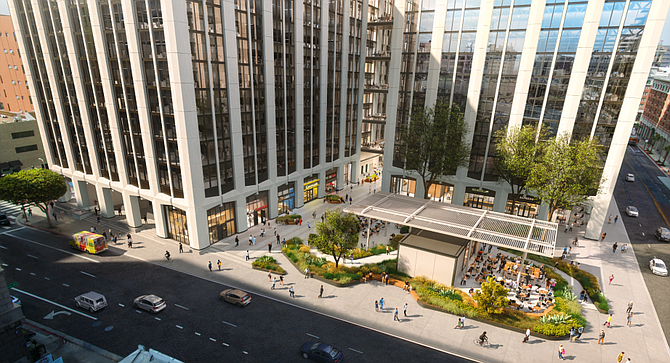 Just before the pandemic hit, Kim Kenson moved her children's apparel wholesale business to a renovated showroom at Building C, one of three 13-story structures that make up the California Market Center in downtown's Fashion District.

"We love it," said the owner of Kim Kenson Sales Inc., doing business as Smallshop Showroom. "It's a much better space. It's modernized, more open and has better lighting, better windows."

Now that the buyers and live trade shows have returned, the only thing that's missing, she said, is "restaurants, coffee, all the conveniences that we had before."

The wait for that lunch spot is nearly over for Kenson and some 450 wholesale merchants at the CMC.

The property's owner, New York-based Brookfield Office Properties Inc., is wrapping up a $170 million renovation launched in 2018. The second phase of the effort, expected to be completed next month, will add 140,000 square feet of retail and dining space at the three-building complex, which is nestled on a city block bordered by 9th, Main and Los Angeles streets and Olympic Boulevard.
 
It will also provide some 1.5 million square feet of creative office space in CMC's buildings A and B, which housed textile and apparel showrooms before Brookfield took over and consolidated all of them into Building C.
 
Brookfield is keeping the names of new tenants under wraps for now, but in a 2019 interview, Bert Dezzutti, head of its Western region, defined the space as a "forward-thinking, 24/7 live-work business district."

The renovation, designed by San Francisco-based Gensler, includes updates to the 40,000-square-foot event space on the second floor as well as the addition of a 5,000-square-foot rooftop terrace and 30-foot-wide, open-air skybridges connecting Building C with Buildings A and B.
 
Access to Building C, which was renovated during the first phase, will be available via a soon-to-open 13,700-square-foot shopping and events plaza that replaced a now-demolished, two-story bank building. The change is designed to make it more convenient for buyers to flock from other showroom buildings in the Fashion District: New Mart, Cooper Design Space, Lady Liberty Building, Designers & Agents, and Brand Assembly.
 
"When the plaza opens — and that is what everybody's waiting for — then the front of the (buildings A and B) will be a throughway to the fashion building," said Ilse Metchek, president of the California Fashion Association. "Right now, a buyer has to walk all the way around to the Olympic side to get into the building."
Pattern of profit
Brookfield is the fifth owner of the California Market Center since brothers Harvey and Barney Morse, local underwear manufacturers who owned now-defunct California Lingerie Inc., opened the complex in 1963. Then known as California Mart, or CalMart, the venue featured some 350 showrooms.
 
The property foreclosed in the early 1990s after the Morse family defaulted on more than $250 million in loans.
 
New York-based Equitable Life Assurance Co., Morse's lender, took over in 1994 and sold the property to late real estate investor Judah Hertz in 2000 for $90 million. DMG World Media bought a 20% stake from Hertz in 2003. CMC traded hands again in 2005, when Koreatown-based Jamison Properties acquired it for $135 million.
Brookfield came into play in 2018, picking up CMC in a deal that valued the property at $440 million.

The venue was "a significant profit center to each group" that acquired it, Metchek said. "Nobody lost money." 
Personal touch
Her connection to CMC goes back to the early 1960s when she ran a showroom for Anjac Fashion, a local garment business she eventually took over. She also served as CMC's marketing and leasing director from 1987 to 1994. During her tenure, she said, she contended with other local landlords who "made all kinds of promises to tenants" in an attempt to poach them from CMC.
 
Metchek also witnessed a birth of a trend where major brands started opening their own showrooms and hosting buyers at their headquarters, reducing their dependence on venues such as CMC. Others started traveling to buyers with their lines without establishing a permanent showroom.
 
While some of the then-trends have morphed into modus operandi for today's merchants and brands, the pandemic proved a fertile ground for normalization of viewing and buying merchandise via digital tools.
 
Showroom landlords, however, need not worry, according to Metchek.

"That's the beauty of apparel, of fashion — a buyer has to feel it, touch it, see it on the model, see how it fits, see how it works for their consumer," she said. "Just showing it virtually doesn't work."
California Market Center by the Numbers
Number of buildings: 3
 
Redevelopment cost: $170 million
 
Total size: 1.85 million square feet
Other major showroom Buildings in DTLA
• The New Mart
• Cooper Design Space
• Lady Liberty Building
Competitors
• Dallas Market Center
   Dallas, TX
• International Market Center
   Atlanta, GA
For reprint and licensing requests for this article, CLICK HERE.