Meet the Builders Behind LA's Most Luxurious Hospitality Properties
Custom Content by the Los Angeles Business Journal
Monday, September 13, 2021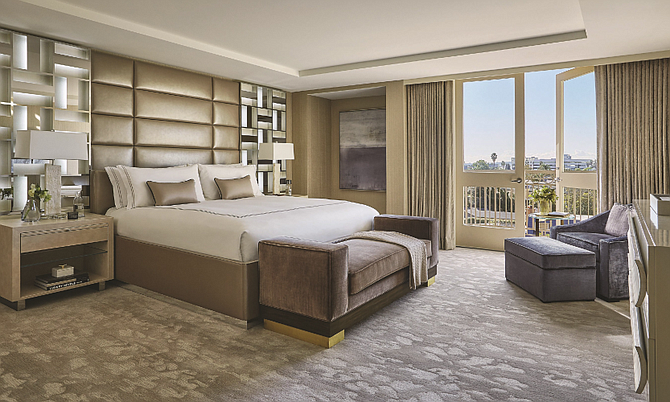 McGuire Builders, Inc. has repeatedly been recognized as one of Los Angeles' top general contractors, specializing in luxury hospitality construction and renovation projects for the last 35 years.  Based in Los Angeles County, the mid-sized firm is staffed by a team of industry veterans with decades of experience focused on the niche market of high-end hospitality.

The McGuire Builders project portfolio is loaded with world-renowned properties, many of them located here in Los Angeles and throughout Southern California.  McGuire Builders renovated the Beverly Wilshire Four Seasons, the Viceroy L'Ermitage, the SLS Beverly Hills, and built the iconic members-only club, SOHO House West Hollywood, to name a few.

Builders vs. Contractors
While the McGuire team takes pride in perennial recognition for their exceptional general contracting services, they remain adamant about what it means to be a Builder:
"We are a builder, not a contractor," senior estimator, Dean Zeiger elaborated. "Contractors are often paper contractors that process plans and specs onto a field of trade professionals, shoving timelines, clauses and fine print down their throats.  We actually study the plans deeply, and in doing so, we are able to envision the process ourselves, the sequence of events that will guarantee success.  We communicate that vision to our trade partners early on, inviting their professional input rather than dismissing it.  This dialogue is imperative to us, because it fosters a collaborative environment and a shared vision that every member of the project team can buy into."

Zeiger emphasized the McGuire team's common denominator, "We have all personally built something at some point in our careers – especially hotels.  
There is a roll-your-sleeves-up, get engaged mentality that we possess, one that is not found in all contractors. We know the details, means, and methods behind what our trade partners are doing.  Our team executes projects in large, actively operating commercial superstructures, but we work like a craftsman building your custom home."

More on the Way
Entering Q4 of 2021, McGuire Builders finds itself back in the driver's seat as travelers and vacationers begin their descent upon Los Angeles and surrounding cities:
"After the pandemic's direct hit on the hospitality industry, tourism is finally making a steady comeback," said McGuire Builders CFO, Paul F. Allen, "There has been a gradual shift from the 'all-hands-on-deck' short-term revenue mentality of hotel owners to a more balanced approach with an increased focus on property development efforts that will lead to greater, more sustainable revenue over the long term.  McGuire is positioned perfectly to help these owners execute their visions."

"We have definitely seen more opportunities in the Los Angeles hospitality market of late," shared McGuire Builders CEO, Michael S. Tande, "We recently mobilized on a project at Brentwood Country Club, which we are very excited about, and we are currently ironing out the details of a contract with another luxury AAA 5-Diamond hotel, an absolute icon in this city."

Learn more at mcguirebuilders.net.
Return To Index.
For reprint and licensing requests for this article, CLICK HERE.