HopSkipDrive, a Ride-Hailing App for Kids, Plans to Triple in Size
Monday, September 13, 2021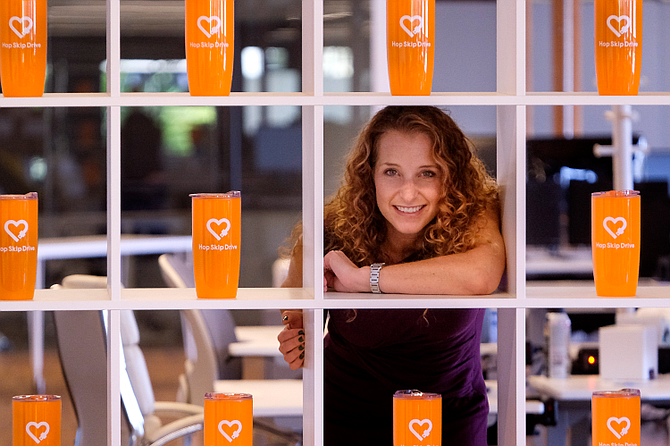 When Joanna McFarland grew frustrated that she couldn't drop her son off at karate practice because she had to be at work, she started commiserating with other moms.

In conversations with Carolyn Yashari Becher and Janelle McGlothlin, she realized many parents faced the same problem: They couldn't be in two places at once.
 
"Everybody that we talked to had some version of the transportation challenge as a parent trying to get everyone where they needed to be," McFarland said.

McFarland, Yashari Becher and McGlothlin teamed up to start HopSkipDrive Inc., a ride-hailing app that helps parents get their children to school and extracurricular activities.
 
Founded in 2014, the downtown-based company allows parents, guardians or schools to schedule rides for kids at least eight hours in advance.
 
"We really started it to solve our own problems as parents, and always with safety as the underlying foundation of everything that we did," said McFarland, who serves as the company's chief executive. "Everything is really built around the idea that the person in the vehicle is not the one who organized the ride and may not have a phone."
 
McFarland formerly served in executive roles at OneWest Bank, Oversee.net and AT&T Interactive. Yashari Becher is a former attorney, and McGlothlin is the founder and principal of branding and copywriting company WriteBrand Inc. Yashari Becher and McGlothlin are no longer involved in the "day to day" of the company, McFarland said.
 
The company pulled in a seed funding round of $4.3 million in late 2015, part of nearly $87 million that is has raised to date. In seven years, it has booked rides for more than 1.4 million students in 6,000 schools.

Its latest batch of funding was announced Aug. 11. The Series C totaled $25 million and was led by New York-based Energy Impact Partners, Keyframe Capital Partners and FirstMark Capital, and Washington, D.C.-based 1776 Ventures.

McFarland said she plans to use the funding to grow into 30 new markets. That would nearly triple the company's footprint; it currently operates in 16 markets including Los Angeles; San Francisco; and Washington, D.C.
 
"We have always believed in the HopSkipDrive team and product, and have been impressed watching them navigate through Covid, which we think will greatly accelerate the value they deliver to their district customers," John Rapaport, chief investment officer for Keyframe Capital Partners, said in a statement.

Make and model
HopSkipDrive users can schedule rides out for an entire school year in advance with prices per ride varying by market. There's a base fare, which is calculated by combining the estimated miles and minutes at the time of the ride's booking, as well as local operating costs, a booking fee and peak hour and wait fees when applicable.
 
Local operating fees in California add 10 cents per ride, and delays of 10 minutes or more add a $10 dollar wait fee.
 
The platform partners with school districts and private and charter schools to help get students to campus and back. The company has contracts with more than 300 schools and school districts and works with more than 20 government agencies to provide local transportation for children experiencing homelessness, children in foster care and senior citizens.

"In 2018, we realized that what we had built, and all of the safety features, were a great solution for school districts and county child welfare agencies who have a lot of child transportation needs that can't easily be met with a school bus," McFarland said.
Safety first
Though they operate in the same industry, McFarland said HopSkipDrive is "nothing like" Uber and Lyft. Potential HopSkipDrive drivers undergo a 15-point certification process that includes fingerprinting, background checks, car inspections and driving record checks.
 
The requirements to drive for companies like Uber Technologies Inc. and Lyft Inc. are less in depth.
 
Uber, for example, requires a year of driving experience, a valid driver's license and an eligible four-door car. Lyft requires the same and also runs a background and driving record check.
 
During rides, HopSkipDrive's "Safe Ride support technology" is active, which allows the company to monitor trips in real time. Drivers are given pickup notes and multifactor authentication to ensure they find the students, and the app sends updates to the user who initiated the ride.

McFarland said many of the company's drivers are moms themselves.

Selena Marion started driving for HopSkipDrive in 2015 in Orange County when her son, then a junior in high school, started driving himself to class, freeing up some of her time. She said she learned about HopSkipDrive via an ad in a local newspaper and viewed it as a way to use her caretaking skills.
 
"It's very neat to pick up the same kids and just listen to them as they grow up as they go from elementary school to junior high or junior high to high school," Marion said. 
Back to school
The ride-hailing technology market will reach a global market value of $209.6 billion by 2026, according to market research firm Mordor Intelligence.
 
That value will be a far climb from where the industry has fallen amid the pandemic.
 
According to a survey conducted in mid-March 2020 of more than 3,000 people by Cars.com, 40% of respondents said they had lessened their use of ride-hailing platforms due to the pandemic.
 
Ygal Arounian, equity research analyst at Downtown-based investment firm Wedbush Securities Inc., said ride numbers were down as much as 80% last year industrywide.
 
"People were on lockdown, and volumes pretty much fell off a cliff," he said.
Covid-19 was "devastating" for HopSkipDrive, McFarland said.
 
The company had to lay off 60 employees in August 2020, bringing its headcount to below 50. During the pandemic, however, the company has also worked with its existing partners to deliver laptops and food to kids and drive seniors to grocery stores, doctors' appointments and vaccine clinics, she said.

As the world began to reopen, HopSkipDrive started to steadily repopulate its staff. One-third of its recent hires have been employees who previously worked for the company.
 
As the school year starts and in-person classes resume, business has ramped up. The company declined to share more specific ride numbers but said in August it gave 11 times the rides it gave that same month the year prior, when in-person classes were not permitted in many places, and 2.5 times the rides it did in pre-pandemic August 2019.
 
"I think over the next year, we're going to help get this country's kids back to school full time and help get them back on a path to academic success," McFarland said.
For reprint and licensing requests for this article, CLICK HERE.