Skid Row Housing Trust Partners to Deliver Long-Term Solutions for Homeless Crisis
2021 Philanthropy Special Report
Monday, October 18, 2021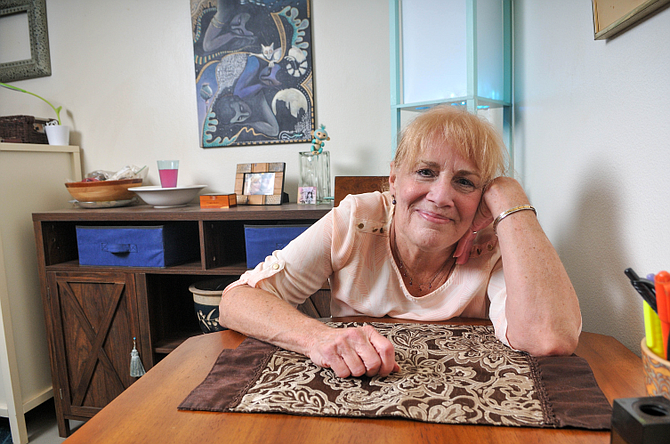 Kathleen Parente was homeless on and off for about five years before being connected with downtown-based Skid Row Housing Trust.

During that time, she did some stints in temporary housing, which she described as having "lots of problems," including bed bug infestations and blood stains resulting from a murder. Parente said she knew she needed to make a change that involved getting into permanent supportive housing.

"I was scared and didn't know what to do. No one is there to tell you how to navigate getting into a place," she said.

Parente was connected with a person who helped her, eventually putting her in touch with a worker at Skid Row Housing Trust.

"He took over everything. … He told me exactly what I needed to do and what I needed to have for this apartment that was coming available," Parente said.

She was eventually allowed to move into one of the nonprofit's new buildings, where she has lived for the last 12 years.

Since its founding in 1989, Skid Row Housing 
Trust has helped thousands of people.

"Skid Row Housing Trust is a 30-plus-year-old organization that has been designed to solve and serve the homelessness challenge and also create real estate development units to house formerly chronically homeless individuals," said Lee Raagas, chief executive of Skid Row Housing Trust.

In-house staff
Skid Row, a roughly 50-square-block area of downtown, has long been known as a refuge for much of the city's massive homeless population.
 
Many people in the area have spent time in single-room-occupancy hotels. From 1950 to 2000, however, some 15,000 residential hotel apartments were destroyed, according to the housing trust. As a result, occupants were forced onto the streets.

In 1989, Skid Row Housing Trust was created to address the issue. The group relied on low-income tax credits, public financing and debt to preserve the apartments, renovating them into permanent supportive housing units. Its first projects, created during its founding year, were Pershing Roma Hotel and Genesis Hotel.

Raagas said Skid Row Housing Trust takes a "housing first" mentality in that the first way to help people who are homeless is to get them off the street and follow with other steps.

In addition to development, the organization also participates in asset, case and property management.
 
Asset management is the method in which properties are looked after on behalf of the group's financial partners and investors. Property management involves the running of the properties, while case management concerns the welfare of individual residents.

Raagas said that at the time the of the nonprofit's founding, "there was really no property management" for the buildings that served formerly homeless individuals.

Skid Row Housing Trust approached the issue in a unique way, putting community residents through a property management training program. The company still relies on traditional property managers as well but hires residents to work as assistant property managers, janitors and maintenance workers.

"We still have a significant portion of the employee base that are formerly homeless individuals," Raagas said.

Rising costs
The pandemic has raised myriad issues for homeless populations, including the creation of new strategies to get people off the street and into safer places. But it has also increased construction time and costs on many projects.

Despite the crisis, Skid Row Housing Trust was able to cut the ribbon on four projects in the past year.

"I'm really proud of our real estate development team," Raagas said. "Bringing four projects to fruition in any year would have been an accomplishment … but they did that with Covid in the background and the pandemic in the backdrop."

Another issue with building affordable and supportive units, developers and experts agree, can be financing. Financing for a project usually comes from a variety of sources and can take years to get lined up.

For Raagas, the bigger challenge is allocating the money.

"I wouldn't say that financing is necessarily difficult because there's a lot of sources that want to support and build the units. It's the way that you have to manage the costs around it," she said.
 
During the pandemic, Raagas said, there were issues with supply chain delays and lumber costs going up. She said materials that might have cost $1 when plans were put together could cost $5 during the pandemic.

"It was really reallocating, recalibrating a lot of those costs to make sure they stay within their original threshold," she said.

Co-location model
To prevent residents from returning to the streets and to assist in job placement and medical care, Skid Row Housing Trust — or the trust, as it calls itself — has partnered with several other groups to provide services.
 
In 2008, the trust partnered with the Los Angeles County Department of Mental Health on Project 50 to house the most vulnerable people on Skid Row in the Charles Cobb Apartments. Two years later, the trust worked with the Conrad N. Hilton Foundation to launch a Prioritization Project to help residents most likely to die on the streets.

Beyond those partnerships, residents at all properties receive counseling, education, health screenings, assistance obtaining benefits and addiction recovery support, among other services.

Raagas said different buildings' residents have their own needs, and it is those needs that often drive the partners. For example, if a building has a good amount of veterans, representatives from the Veterans Affairs Department may come to the location to provide services.

One of the trust's partners is downtown-based Los Angeles Christian Health Centers, led by President and Chief Executive Lisa Abdishoo.

The group owns and operates Joshua House Health Center, a recently opened clinic on the first three floors of Six Four Nine Lofts permanent supportive housing development, which the trust developed. Both opened in June.

Los Angeles Christian Health Centers has provided medical, dental and mental health services to people on Skid Row for more than 25 years. The group, which now has 14 locations, also provides social services and operates pharmacies.
 
"Our mission is to serve our neighbors with comprehensive health care services," Abdishoo said.

The Joshua House is the group's "health care hub," according to Abdishoo, and has gradually grown. It got its start in a building originally constructed as a hotel in 1913.

Abdishoo said the group added exam rooms and dental suites at the site but had outgrown it, which made it "a challenging place to try to provide high-quality care to the community."

"We were growing and needed to get to a new space where we could better serve the community," Abdishoo said.

Joshua House, L.A. Christian Health Centers' flagship clinic, has partnered with Skid Row Housing Trust over the years on medical care, referrals and even on a clinic inside the New Genesis Apartments. In 2014, the trust approached them about expansion, serving as the developer for a new clinic with housing above it.

"We had always loved the co-location model and believe that more housing was needed in addition to the clinic," Abdishoo said.

The new Joshua House location has 18 medical exam rooms, six consultation rooms, eight dental chairs, nine mental health rooms, an optometry suite, a multipurpose room, a meditation room, a chaplain's office and 13 social work coordination offices, as well as multiple meeting rooms.

The facility is almost triple the size of the former one. It also has an elevator, something the old building was lacking, which Abdishoo cited as significant. She predicted the building will see roughly 7,000 patients a year.

Diane Ballen, vice president of business development at Irvine-based Burnham Benefits Insurance Services and board member of Skid Row Housing Trust, has done work with the nonprofit for about five years.

"I work with clients and vendors that work with the trust and also my friends and people in the community to help create an awareness of what the trust does and asking for support," Ballen said.

Support sometimes is financial or comes in the form of specific goods. During the pandemic, for example, she was able to get 2,200 pairs of shower shoes donated.

Other service partners include Chrysalis, a nonprofit that helps people find jobs; Exodus Recovery Inc., which helps with health care; and Piece by Piece, which offers mosaic art workshops.

For Parente, the access to health care she has found through the Skid Row Housing Trust and its partners has been impactful.
 
She said she initially had to leave her job because she was sick, and it wasn't until she became a Skid Row Housing Trust resident that she was finally able to get the medication she had needed for years.

Although Parente is now 68 years old and retired, she said that since taking up residence at the trust, she has begun doing volunteer work to give something back to the community.

Raagas said Skid Row Housing Trust will be working over the next few years to improve its infrastructure, participate in more task forces, and engage in prescriptive measures to prevent people from becoming homeless.  

"I don't see the need going away," Ballen said of the trust. "I see the need increasing, and I see the trust as being a pillar and the benchmark for how we can bring our unhoused neighbors home. I see their role being stronger than ever."
Keep reading the 
2021 Philanthropy Special Report
.
For reprint and licensing requests for this article, CLICK HERE.