Bank of America Plans Expansion in LA Market
2021 Largest Employers Special Report
Monday, October 11, 2021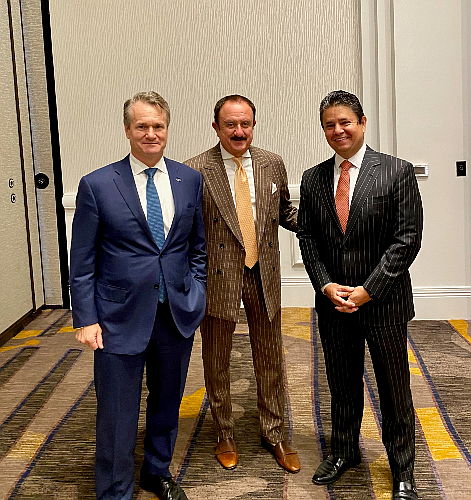 Bank of America is the largest commercial bank operating in Los Angeles County.

The Charlotte, N.C.-based bank boasts the No. 1 spot among banks in Los Angeles, capturing 16.4% of the market as ranked by share of deposits.

The bank took the No. 29 spot on the Business Journal's list of largest private-sector employers this year, employing 5,500 locally. It has plans to hire more than 500 additional wealth advisers, business bankers, and others over the next three years, and in "every line of business that we're in in L.A," according to Raul Anaya, president of Bank of America's business banking unit and head of the Los Angeles market.  

"L.A. is a very important growth market for us, and we are going to continue to increase market share," said Anaya.
 
In his role as a C-suite executive running Bank of America's business banking unit nationwide, Anaya reports to Bank of America's Dean Athanasia, president of regional banking.  
Days after the killing of George Floyd last year, the bank launched a $1.25 billion racial equity initiative that includes investments and resources to help communities of color.
 
Bank of America also made investments earlier this year as part of a broader initiative to invest $350 million in venture capital funds in 21 markets across the United States. These investments underscore the bank's ongoing efforts to address the gap in access to growth capital for minority-led businesses.
 
So far this year, it has invested in minority-owned venture capital firms that back under-represented entrepreneurs, including downtown-based VamosVentures Management Co. and Hollywood-based Mac Venture Capital Management.

The bank also bought 4.9% of voting shares in a private placement with the downtown-based Broadway Federal, the nation's largest Black-run bank, now known as City First Bank.
 
Last week, Anaya was showing Chief Executive Brian Moynihan around Southern California, including attending the L'Attitude conference for Latino business owners in San Diego. Anaya spoke with the Business Journal to discuss how Bank of America got through the pandemic and what plans it has moving forward.
             
How is your company handling Covid safety protocols such as distancing in the office, Covid vaccinations and Covid testing? What are you requiring versus suggesting?
Keeping in mind that our financial centers remained open throughout the entirety of the pandemic, we implemented safety protocols immediately — from masks and social distancing in the early days to then conducting on-site temperature checks for clients entering our sites. For our employees serving in client-

facing roles, we implemented on-site nurses at many locations while reminding teammates to stay at home if they feel sick and providing unlimited Covid-related sick days.
 
For employees who don't work at financial centers, our plan is to continue their return-to-office procedures when it is safe to do so, in phases starting with vaccinated colleagues, depending on their roles and local health guidelines. As conditions continue to evolve, we are trying to find that balance between employee flexibility to work from home while encouraging a return-to-office posture.
             
How have you changed — or do you expect to change — your physical office location setups such as spacing workstations, installing touchless entry systems, downsizing physical space?
Having been an essential business remaining open throughout the pandemic, we got a bit of a head start on this with spacing out workstations, more touchless technology, and clients using our digital and mobile self-service platforms at record levels to make appointments, send funds and such. Today, 85% of checks are deposited outside the four walls of bank branches, thanks to the advances in these apps and platforms.  
 
Have you changed your employee benefits in the past year to accommodate employees' changing needs or to compete more effectively in the current market?
At the outset of the pandemic, Bank of America made a commitment to keep every employee working. We initially did this by deploying 90,000 laptops to homes of employees; subsidizing new Wi-Fi and home office needs; expanding telehealth programs; and for front-line teammates who interacted with the public, Bank of America provided supplemental pay, enhanced overtime pay, and reimbursements for transportation, hotels and meal subsidies for employees who went into the office.
 
As challenges and needs evolved over the course of the pandemic, we significantly enhanced adult and child care support, for example, providing 4.1 million days of child and adult care services, totaling more than $400 million in reimbursements over the past year and a half.
 
We also expanded mental health benefits as well as pay for our hourly employees — initially implementing our hourly minimum wage to $20. This spring, we announced we will increase that pay to $25 by 2025.
             
What has been your biggest takeaway from an HR management perspective during the course of the pandemic?
Just a few months into the pandemic, many employees were already feeling (video conferencing) fatigue as our leaders wanted to keep our employees engaged virtually. So, we have been working with our employee networks and business teams to offer meetings and events that bring greater value to our employees.
             
How would you characterize your company's year? 
It's been a very successful year for us, with tremendous (demand deposit account) growth as clients moved to Bank of America given our size and financial condition. While loan demand was tepid given the contraction in the economy, we are now seeing demand pick up as clients move forward with delayed capital expenditures for increased demand for their products, particularly those clients in the consumer products space. Los Angeles continues to be one of the company's top growth markets, and we will continue to add bankers and advisers in all of our businesses here.

What has your L.A. team's contributions been to success this year?
We know that L.A. is the deal-making town, and Bank of America led many notable IPO, bookrunner, M&A and (special purpose acquisition company, or SPAC) deals with clients like Torrid, Honest Co., Blackline Systems, AECOM and LegalZoom, as well as others we can't disclose but are just as exciting. We have also surpassed by about 40% the number of deals and financing for affordable housing construction projects across Los Angeles over the prior year. This is so important for working Angelenos to be able to afford to keep living here.
                             
What challenges is your L.A. team focused on in the fourth quarter?
Return to office is a key priority as we get to a new (business as usual). We will also plan on adopting learnings from Covid and the prolonged pandemic to increase productivity of our bankers and advisers. For example, calling on clients in person and virtually and accelerating the digital transformation of our clients.

Have you launched or expanded upon programs to promote diversity and inclusion internally, and what changes have those efforts brought about?
Last year, we made a $1.25 billion racial equity initiative days after the killing of George Floyd that includes investments and resources externally to help communities of color, but it also looked inward at our own practices and policies — notably, committing to hire, develop and promote more diverse talent.  

This starts at the top of the house with our own senior management team soon to include more diversity of gender and race than ever before in the company's history. Concurrently, our board of directors is 50% diverse as (are) our management teams; and nearly half of our U.S. workforce are people of color — 14% Black, 19% Hispanic-Latino, and 13% are of Asian descent.
             
What trends in your industry needs are you monitoring going into 2022?
A key focus for us in 2022 is continuing to increase our Los Angeles market share in all of our businesses and investing in additional bankers and advisers to win more business.
 
Another important trend is how to continue helping minority businesses grow and scale. So far this year, Bank of America has invested $350 million into minority-owned venture capital firms that back underrepresented entrepreneurs, with several here in California. We know the Hispanic business segment is the fastest growing in the United States, in California and here in Los Angeles; and during the pandemic, black entrepreneurship grew at record rates, which is a very exciting trend.
Keep reading the 2021 Largest Employers Special Report.
For reprint and licensing requests for this article, CLICK HERE.