How the LA Ports Plan to Ease Congestion Ahead of Holiday Shopping
Monday, October 4, 2021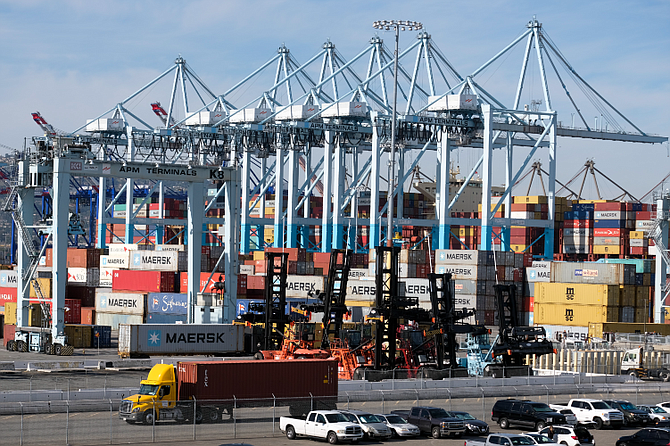 Joe Falzarano, owner of Huzzah Toys in Venice Beach, met last week with a sales rep from Hawthorne-based Bruder Toys America Inc. to place orders for the busy fourth quarter shopping period. But the pickings were slim.

"We are getting some product in, but not everything we want," Falzarano said. "A key item like a fire engine, which is a basic staple for kids in terms of toys, is not going to be available for the holiday season due to the supply chain backup and everything sitting on the water."

Merchants like Huzzah Toys are in the eye of "a perfect storm" brewing at the San Pedro Bay port complex, according to Christopher Tang, professor at UCLA's Anderson School of Management.

Last week, there were 144 ships in San Pedro Bay, of which 85 were waiting at anchor or drifting along the coastline, according to Marine Exchange of Southern California, a nonprofit that coordinates traffic at the ports and churns out daily vessel arrival and departure reports.

The higher transportation prices have attracted other players in the shipping realm who are looking to profit by picking up the excess cargo. Freight lines that used to operate only from Asia to Europe, or Asia to Africa, are sending ships to carry goods to L.A. instead, "jamming the ports of California," Tang said. "The more ships are stuck, more of the product is not going through because there's congestion."

To reduce the amount of time cargo spends waiting for pickup on the docks, local port officials on Sept. 17 extended hours during which trucks can pick up and return containers. Total Terminals International at the Port of Long Beach has opened its gates from 3 a.m. to 7 a.m., Monday to Thursday, for trucks to drop off and pick up containers in the same trip. The Port of Los Angeles meanwhile also expanded its weekend operating gate hours.

But Tang is skeptical the new extended hours will solve the problem.

"Right now, everyone is blaming the ports, but we have to be mindful that we are dealing with a supply chain problem, not one particular link. If you fix this link, you create another problem," he said. "Suppose that the ports are operating 24/7, which is good, you can unload more containers, but then we don't have enough people to load the containers onto the train or the truck. Also, Union Pacific Railroad Co. and BNSF Railway Co. are running at full capacity, and even if they can get the container on trains, they're routed to the Midwest — usually to Chicago — but the Chicago warehouses are completely full. They cannot take more containers."

Local warehouses are facing similar challenges, according to Port of Los Angeles Executive Director Gene Seroka.

"Two billion square feet of warehousing from the shores of the Pacific out to the desert region are overflowing," he said. "We need more workers on the job. We probably need expanded hours to match up with the work that's being done in other segments of the supply chain."

In addition to reducing the cargo dwell time at terminals, local ports are investing in workforce training and urging retailers to use nighttime appointments to pick up their goods, as 30% of those timeslots go unused, according to Seroka.
 
His team is also focusing on ways to move available truck chassis off marine terminals to neutral locations on port property and have a better account of the inventory, "so we can move and flex better during rising times," he said.

Supply chain concerns
The inventory shortages faced by Huzzah Toys are more of a new normal than an one-off.

"It's really shocking to see just how many companies have gotten caught (up in this)," Falzarano said, adding that one of its vendors, puzzle-maker Ravensburger North America Inc., "said to all their retailers, 'Get your orders in by mid-September because we're not bringing any other product in for the rest of the year. We're not going to put up with the increase in our containers and shipping (costs) that are just astronomical, and we're not going to pass that increase along to you.'"
 
A similar scenario is playing out at Tom's Toys, which has been in Beverly Hills for more than 20 years.

"We are having trouble getting a lot of our inventory in," said store Manager Koby Lopez. "Our store right now is very empty, in comparison to previous years, especially leading up into Christmas because this is around the time where we were really supposed to be stocking up. But most of our shipments have been delayed. For instance, our biggest sales in the store are from Lego, and we placed orders back in, like, June, and we still haven't gotten them. They were supposed to be here months ago."

To contend with the supply chain issues, and in a bid to salvage the upcoming holiday shopping season, some merchants have offset higher freight, material and labor costs with price increases. Others are focusing on creative ways to improve inventory shortages and staffing issues.
 
While their approaches may differ, the general consensus is that it will be some time before supply catches up to demand.

"It's hard to say how long this is going to last," Guess Inc.'s Chief Executive Carlos Alberini said during the company's Aug. 25 second-quarter earnings call. "I was hoping when this whole thing started that it was going to be a matter of a couple of months to three months. Our product is running about four weeks late, and there are some cases where we are just in a more challenging situation than that. What we are hearing from our teams is that, at least, just think that these conditions are going to prevail for the rest of the year and, in many cases, going into next year."

Rising costs
Companies opting for price increases include Big 5 Sporting Goods Corp. in El Segundo and Motorcar Parts of America Inc., a Torrance-based manufacturer and distributor of automotive aftermarket parts that reported higher freight and other costs of approximately $4.5 million during the first quarter of its fiscal 2022.

"Historically, freight costs have been as low as $2,000 a container coming out of China, (and) today, I've seen prices as high as $18,000 a container, so you're looking at 900% increase in those costs," Motorcar's Chief Executive Selwyn Joffe told analysts in August. "All of that we expect we have to pass around through prices. The entire industry is doing that."

Downtown-based Guess is "laser focused on what we can control," according to Alberini, including sizing inventory buys to meet the demand, adjusting prices of products, and increasing labor rates to attract and retain top talent.

"We have been relentless in mitigating supply chain disruptions," he said. "We are strategically partnering with our vendors to accelerate deliveries when feasible, changing countries of origin when appropriate to increase speed to market and investing in faster transportation modes when it makes sense."
 
Huzzah's Falzarano said he survived the first year of the pandemic with the support of his landlord who "got the whole concept that we're all in this together and really was willing to work with us when the shutdown happened."

He also said he catered to the customer "that likes to support small business, likes to have us in the community, who needs it now, who likes the additional customer service and gift wrapping, and all the special stuff that that we do that you can't get through an online experience."

And he remains optimistic that his toy store will "muscle through" the inventory issues and shipping cost increases.

"After all, what we've been through these last couple of years, absolutely, we will manage," he said. "We're surviving, and we're going to continue to thrive … The cool thing with toys is, we have options. … If I can't get a fire engine from one company, I'll be able to find it elsewhere. … When it comes to kids, we are going to make sure we don't disappoint."

But Tang said he's concerned that recent calls among consumers to buy Christmas gifts early might trigger panic shopping sprees — similar to those retailers faced with masks and cleaning products at the onset of the pandemic.
 
"With everything backed up I think we need to come up with the systemic solution to coordinate and say to consumers, 'Hey, all of you stop this, don't buy things that are not critical right now because you're not helping the problem. You are actually creating a bigger problem,'" Tang said. "Then we have to work with every single link in the chain to smooth it out."
For reprint and licensing requests for this article, CLICK HERE.