Bonduelle's US Expansion to Focus on Providing Healthy, Convenient Foods
Monday, November 15, 2021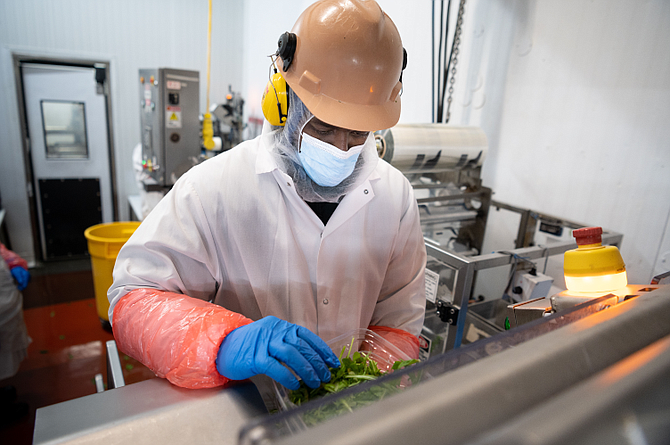 Andrea Montagna's U.S. mission seems simple — he wants to "make Bonduelle Fresh Americas great," so it can "regain the role of star and main driver" within the portfolio of its France-based parent, Bonduelle SCA when it comes to turnover, profit and sustainability.

The recently appointed chief executive said he plans to expand the Irwindale-based company's product categories to include "vegetables in different forms, to be eaten in a convenient way," such as side or main dishes, which will complement its popular salad kits, bowls and snacks sold under the Ready Pac label.

"Our general idea is that we want to keep it close to nature," Montagna said. "We are not looking at an oversophisticated product. We are looking at launching products with (an) as clean as possible (and) as short as possible ingredient list."

Montagna's strategy is in tune with a growing trend among American consumers who increasingly favor a plant-based diet for its health benefits, according to Dasha Shor, a global food analyst with Mintel Group Ltd., a London-based market researcher. He's also spot-on when it comes to convenience, she added.

"Our data shows that more and more consumers are invested in both short-term and longer-term health," Shor said. "But the key in this world is convenience. We're seeing the tendency, especially around younger consumers, (for) resisting the kind of hard prep time."

Shor added that 33% of Gen Z, which Mintel Group defines as its "younger consumers," say vegetables go bad before they even had a chance to use them all, and another third say that it's hard for them to make vegetables taste good.
 "(Bonduelle's) proposition, with the sides and the main dishes that are easy to prepare — maybe as easy as heat and serve — is allowing consumers to bring the element of health and convenience into their home in one product, which I believe, will resonate greatly," she said.

Root system
Bonduelle Fresh Americas has about 3,500 employees, including 1,800 working at its 472,000-square-foot plant and corporate offices in Irwindale. It also runs smaller facilities in Florence, N.J.; Swedesboro, N.J.; and Jackson, Ga., and it has a sales office in Bentonville, Ark.
 
The company buys produce mainly from growers in the Salinas Valley from April to November and during the winter season from farms in Arizona's Yuma Valley.
 
"Depending on the grower, we might have a different type of contract — by acre or by pound," Montagna said. "We have our own fields in some parts of the world, but not in the U.S. at the moment."

Once harvested, the company's four processing plants quickly churn raw produce into bagged salad kits, bowls and snacks sold under Ready Pac Foods, Bistro Bowl, Ready Snax and Cool Cuts, among other labels.

The operations came under the Bonduelle SCA umbrella in 2017 when the vegetable giant acquired Ready Pac Foods Inc. from Bayside Capital Inc. for $409 million.
Ready Pac, which Dennis Gertmenian founded in 1969, had approximately $800 million in revenue in 2016, according to financial disclosures filed by Bonduelle.

The company has been tight-lipped about sales generated in the United States ever since. It ended its fiscal 2021 on June 30, reporting $3.2 billion in revenue, $1.7 billion of which it attributed to its non-European operations that include Irwindale and its sister plants on the East Coast.

"What I'm comfortable saying is that the United States is the biggest market for Bonduelle Group," Montagna said. "Until 2017, for more than 150 years, the main market for Bonduelle has always been France, the market where the (founding) family is based, where business started in 1853."

Although Bonduelle Fresh Americas may be the French group's biggest division when it comes to sales volume, several pandemic-related headwinds have depressed its bottom line. Montagna said he's contending with labor shortages and increased costs of packaging, wages and raw materials while already operating "in the low single-digits in terms of profit."

"We are not particularly different than other companies, but in our market, margins are thinner," he said. 

Growth plan
In addition to expanding the product lineup, Montagna said he'll also focus on launching Bonduelle as a brand in the U.S. market — a move that will complement the company's effort to become B Corporation certified by 2025.

"Our goal is to strengthen (Ready Pac) and to really launch this strong brand presence in the next three to five years in the U.S.," he said. "This will be strongly linked also with innovation in terms of products."

Montagna said Bonduelle's U.S. strategy is a "three-legged stool" where in addition to building a brand, his focus will also be on supporting its private-label side of the business and its foodservice clients, such as large restaurant chains.

"I'm not competing with other salad manufacturers ... but I would rather have more Americans eating healthy, plant-based food buy Bonduelle Fresh Americas instead of eating other types of food, whatever they are," he said.
For reprint and licensing requests for this article, CLICK HERE.