FAT Brands Acquires Fazoli's System Management in $130M Deal
Monday, November 8, 2021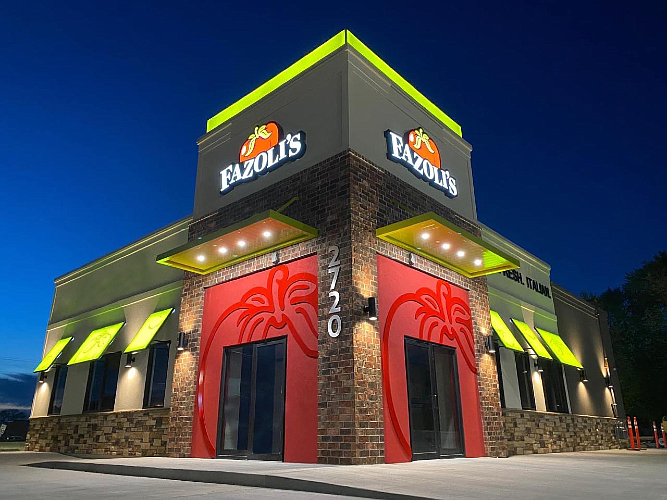 FAT Brands Inc.'s got another one — the Beverly Hills-based company picked up Fazoli's System Management in Kentucky for $130 million from Sentinel Capital Partners, FAT Brands' fourth acquisition in the past 12 months.  

"We're not done," said Chief Executive Andy Wiederhorn, adding that he's looking to close two more deals before year's end. "It's a great time to make these acquisitions. They're all strategic and make sense for us as a business."

FAT Brands acquired Johnny Rockets in September of 2020 for $25 million; Round Table Pizza, Great American Cookies, Hot Dog on a Stick, Marble Slab Creamery and Pretzelmaker in July for $443 million; and the Twin Peaks restaurant chain Oct. 1 for $300 million. Other brands under its management include Fatburger, Elevation Burger, Buffalo's Cafe & Express, Hurricane Grill & Wings, Yalla Mediterranean as well as Ponderosa and Bonanza steakhouses.

Wiederhorn said Fazoli's has been on his radar for some time.
"I've known the CEO for a number of years, and we've watched this brand grow, and what we love about it is, it's in the (quick-service restaurant) space — the fast-food space — so that's lower price point," he said. "Also, 99% of the restaurants have drive-thru (options), and that's very resilient to Covid and lockdowns."

The Italian food category is also a positive from Wiederhorn's perspective.
"It's delicious," he said. "When you think of FAT Brands, (it stands for) fresh, authentic and tasty brands. That's our mantra. We just refuse to do a deal with a brand when we don't like the food."

Fazoli's has 30 corporate employees and 1,000 more working at 50 company-owned restaurants. Another 150 locations are franchised and 100 more are under development. The chain is expected to generate about $300 million in systemwide sales this year, according to Wiederhorn.

The deal, set to close next month, will increase FAT Brands' footprint to 2,300 franchised and corporate-owned stores and bring its 2022 expected systemwide sales to more than $2.1 billion.

FAT Brands reported a loss of $3.6 million on $29 million in revenue for the third quarter that ended Sept. 26. Systemwide sales for the quarter grew 378% compared to the same period last year and were up 237% from the more stable third quarter of 2019.
For reprint and licensing requests for this article, CLICK HERE.